---
Jun 14 | 2022
JRF is a fashion and lifestyle brand with an emphasis on hand drawn print, colour and quality.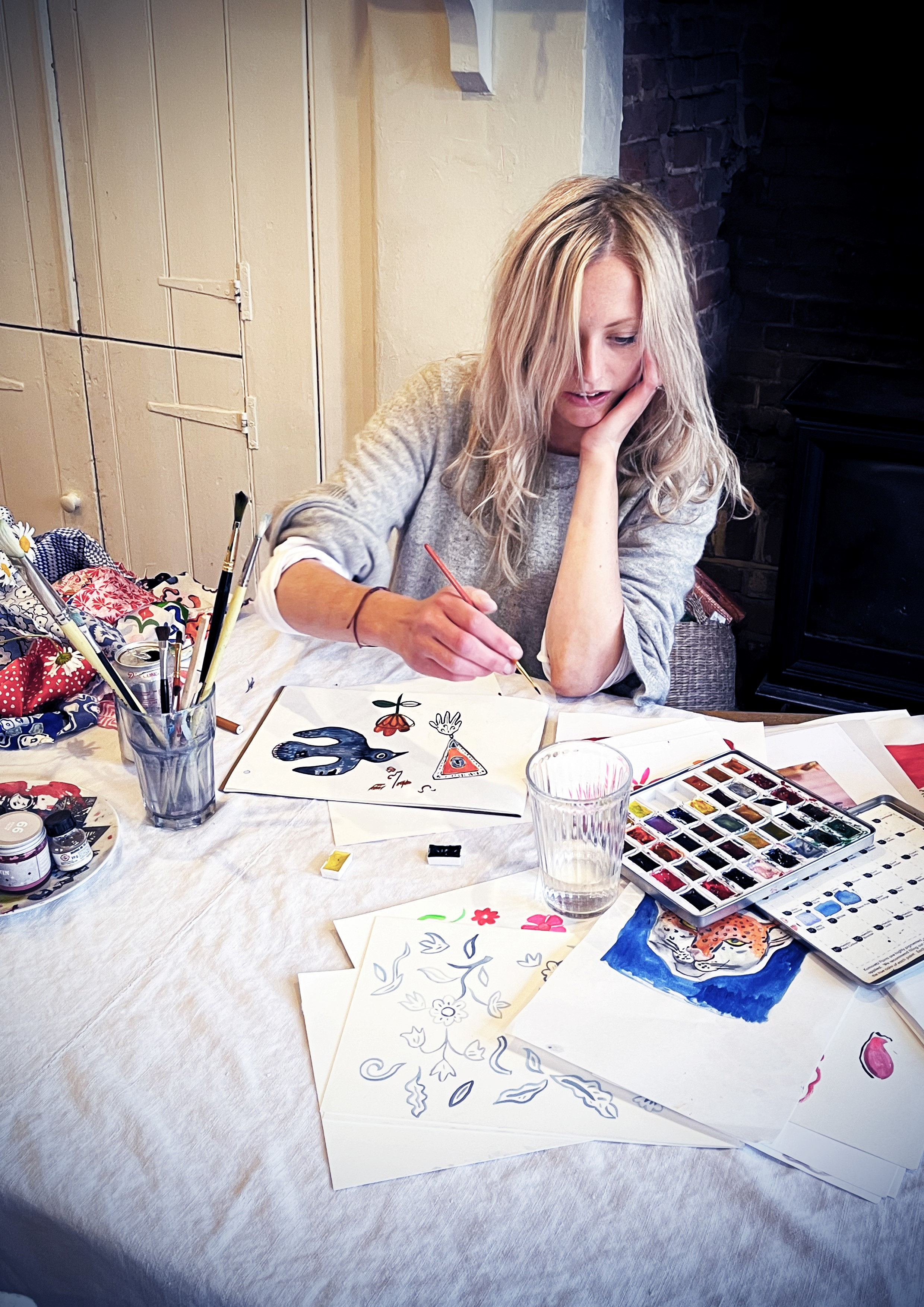 Jess tell me about your brand please?
JRF is a fashion and lifestyle brand with an emphasis on hand drawn print, colour and quality. I always wanted the brand to capture and convey a sense of joy and freedom that would make people happy and feel positive! We've expanded our ranges slowly to include everything to create a curated platform of things we love. We are currently working on sleepwear, high fashion, resort wear and our expanding selection of JRF HOME. Everything is made from brilliant materials and we strive to make sure our cuts are flattering for women of varying shapes, sizes and ages.
How did you start the company?
We literally started from the old cliche - drawing/working/designing from my kitchen table with my dog Betty Beagle for company at our first one bed flat in Dalston to now. I freelanced on the side to fund myself and the business for around two years and my boyfriend (now husband) would get enraged by the stock stored in every available spot in our tiny flat - under our bed, the sofa, every shelf.. slowly the business grew and I moved from the flat to a shared studio in a very cheap but almost pitch black, freezing cold basement with no natural light to gradually upgrading to a studio with light... to employing my first member of staff.. then a bigger studio.. to the more staff and then the move to where we are now.
Can you describe your style - Who is the JRF woman?
A woman who is free-thinking; fashion-curious but definitely not an imperious fashion snob....They are bold, independent women with a love and thirst for life and want to express themselves.
What made you want to start the brand?
It was a fairly organic process, I was working in advertising for around five years after graduating and did freelance illustration and commissions on the side. I did an exhibition of my work in Clerkenwell and included some linen table napkins which I'd done for fun. The Conran store spotted the napkins and bought these and then Harrods asked me to do some Christmas designs and this lead to a range of accessories in store.
Where did the influence for your prints come from?
I've always liked impressionism and the bold colours and artworks. My favourite artists are Frida Kahlo, Guagin and Shiele. I'm always recording things wherever I am, food labels, textures with my camera, or saving old magazines and looking at typographies and photographers on Pinterest. For example, where we live in east London there's quite a few different ethnicities who've lived there through the generations; there's different tiles on walls, different prints on clothing in market places... it can come from wherever. I am a magpie.
Who are your style icons?
Bowie. Westwood and Frida Kahlo.
What has been your biggest achievement to date?
Growing in the face of so many challenges; a world pandemic, world wars, giving birth three times and now.. three young children. Every time I think we can't go on, something positive happens and I know we have a huge support system in place. I am very proud of our team's hard work and persistence.
What's in the pipeline for the future?
I need to be reigned in.. there's too much I/we want to do.. so much opportunity. We are obviously working hugely on our sustainability as a company and a brand, sourcing amazing new fabrics and reducing our carbon-footprint. We are launching launched our eco high summer range last year which is doing extremely well and we want to keep growing our product ranges and bring in other curated items to our offering.