---
Apr 20 | 2020
Scoop founder and MD Karen Radley spoke to Sophie Bland of Bod & Ted to find out more.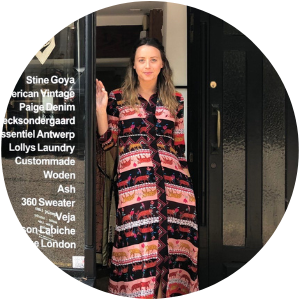 How are you and your family?
We are well and just all trying to stay positive during this strange time.
Are you still open for business?
Our bricks and mortar store closed on the 21
st
March. We are now focussing on our website
www.bodandted.co.uk
and social media channels, so we are still very much open 24/7! And we are available in store weekdays between 10-12 for mail orders.
Bod & Ted is a mother and daughter team. So... how does that work?
Every decision is a team effort, and we bounce all of our ideas off of each other. We do all of the buying together which we feel gives us a real point of difference as it means we appeal to a wide age range. We each bring something different to the table giving our edit a fresh, unique feel.
I'm sure you have been asked before…why did you choose the name Bod & Ted
Bod & Ted are nicknames I have for my two older sisters. Even though they both have their own careers, you can sometimes see them on the shop floor helping out or tagging along to buying appointments to help me with my baby. And they are of course two of our best customers!
How do you both choose the collections you wish to stock?
A collection has to speak to both of us in order for it to make the shop floor. Generally we both have to be 100% behind a brand, often there is a collection that Yvonne or I love but the other doesn't feel would be a great fit, so we definitely balance each other out this way and help keep each other grounded.
Did you find any new designers at Scoop this February?
Yes we did find some interesting collections at Scoop - one being Emily Lovelock and the other Cocoa cashmere.
How are you spending the time with your family during lockdown?
I am obviously spending a lot of time with my family at the moment, which is lovely but also hard work with two under three year olds. My husband and I have started doing online yoga classes together to try and balance out all of the baking! We try to sit down for dinner together most evenings and always find time for a family walk which makes a lovely end to the day.
So who is Scruff? Is he part of the Bod & Ted team?
Scruff is definitely part of the Bod & Ted team. He was my first baby and has been spotted on the shop floor since 2012!
Have you got a story that you'd like us to share? Tell us about your acts of kindness or positive news via email or on social media.