---
Jan 03 | 2020
Meet British designer Cassandra Hone as she prepares to launch her collection at Scoop this February.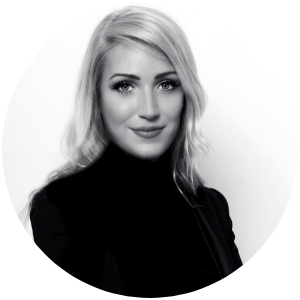 Would you say your collection is sustainable?
Yes, creating a sustainable and ethical fashion brand was one of my main goals from the beginning. I am very careful where I source my fabrics from, and I use sustainable printing techniques. This includes lower energy and lower carbon intensive printing methods and other environmentally friendly benefits such as less chemical usage and lower waste. All my accessories and garments are made here in London to a very high quality.
Tell us a bit more about your fantastic fashion background…
My love for fashion started at a very young age collecting books on all the greats that inspired me, such as Azzedine Alaia and Gianni Versace. After studying fashion at school, college and then graduating in Fashion Design at university, I interned for luxury fashion houses in London and internationally. I was then lucky enough to get a break in full time employment for some of the best brands in London and my passion and skills excelled when working directly with members of the Versace family in London and Milan. With a similar design aesthetic to myself, designing for confident powerful woman was my passion.
My main goal has always been to create and build my own luxury womenswear label and I will be launching this February at Scoop International. My dream is to inspire woman with my clothes and make them feel great whilst bringing something unique to the fashion industry.
Who or what inspires your designs?
I am inspired by confident, powerful woman. The women that I am designing for are the DNA to my designs. I became inspired by 90's fashion and the supermodels of that era. There was a sudden burst of confidence and sex appeal at the time, but also a use of tailoring and power dressing which I think started a revolution of woman becoming empowered by their clothes. When it comes to my prints and detail, I am inspired by the world around me and my interests, nature and art, which are both used constantly throughout my prints.
Would you say that you have a particular design "signature" or aesthetic?
Yes, my clothes are aimed to make a women's body look it's best. I do this by perfecting the cut and detail of each piece. I achieve this with print, using movement and darkening and lighting areas to accentuate areas of the body. My prints are bold and slightly edgy using textures such as reptile skins.
What will you be showing at Scoop AW20?
I will be launching a few special pieces to introduce my new Luxury Womenswear line - Cassandra Hone. The garments are beautifully cut, and I have used top quality silks with hand sewn details to perfect the quality of the garments, they are all printed and made here in London.
Do you have a favourite piece in this season's collection?
For me this would be my 'Ocean Depths' slip dress. This dress is beautifully cut, and the fabric feels incredible to wear. The print resembles the natural beauty of the sea, filled with mystery and depth. Blue marbling with liquid gold to represent light reflecting through the sea and layering details of oysters and sting-ray skin. Inspired at a time when we should be protecting our plant and our oceans. I also plan to contribute a percentage of profits from this dress to keeping our oceans clean and clear of plastic.
Why are you joining the Scoop line-up this season?
Scoop is a great platform for emerging designers to get in front of the leading buyers in the world. I personally like Scoop because of the quality of designers on show, offering a high standard of luxury.

Meet Cassandra and the rest of our exciting line-up of designers at Scoop AW20 at Old Billingsgate from 9th - 11th February.