---
Feb 07 | 2020
Meet British designer Dom Goor as he prepares to join us at Scoop this season.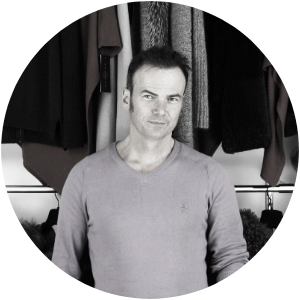 Tell me a bit more about your fashion background.
I studied at Bournemouth and Poole College of Art and Design but did not finish my course. I had started my business while studying; designing, making and selling suede, leather and shearling garments, firstly to fellow students and then very quickly to independent retailers.
Before I could finish my course, my business had taken over! I had my own small workshop in Brick Lane, East London, employing 8 people making my designs.
In 2014 The Dom Goor collection was sold by the Janet Thurston Agency, primarily because one of my old friends, James Preston was working with them. Soon after James and I started working on the collections together and we still are. We are a brilliant design team, James is always pushing the boundaries and with my practical knowledge of 27 years of working with skins, we are together, able to make some of the most amazing but wearable designs. We are an unstoppable creative force!
Why do you enjoy working with leathers, skins and luxury fabrics?
These are the ultimate materials and I am very fortunate to be able to work with them.
There is nothing in the world that can compare to the touch of aniline leather or that is as soft as the wool on a Spanish Merino shearling, nothing drapes and handles like knitted cashmere.
These are the building blocks of our luxury collection, that James and I colour and shape, to produce our timeless, beautiful creations that we are so proud of.
How would you describe the Dom Goor aesthetic?
It's all about understated, everyday luxury. Our shearling coats and cashmere knits are all about wrapping oneself up in warmth and loveliness. We want our designs to feel good, look good and make you feel a million dollars.
It is so exciting to see how the Dom Goor brand grows. Over the last few years we have explored new ideas, moving towards a more contemporary, yet feminine silhouette, that is both luxurious and totally wearable. What started with our bestselling 'fit and flare' 3/4 coat has led to more cocoon, minimalist shapes and an ever growing knitwear collection, which the market requests.
Why is the Made in London label so important to you?
Made in London, in our own factory is very important. Working with skin is a highly skilled art and I am able to oversee the whole process. I am very lucky, I have an amazingly talented team that has worked with me for a long time and know what are clients expect. We are a well-oiled machine and proud that we are one of the few labels that are still able to manufacture are garments in London.
Why are you showing at Scoop this season and what can buyers expect from you?
Although we show our collection in the Mr&Mrs P London Showroom, Scoop is very important for us and we have shown here for the last 5 years. The show is amazing, it attracts most of the top UK fashion buying royalty, and many of our customers book buying slots at Scoop, it is very handy for them and us. This season, you can expect from us in shearling, simple silhouettes with engineered collars and sleeves all with a Dom Goor twist; in knitwear, a much larger offering including classics and some new really special pieces.
Meet Dom and James and discover the latest Dom Goor collection at Scoop this season.