---
Dec 05 | 2019
To celebrate the British designers joining us at Scoop this season, we spoke to Christina and Graziella, the founders of Santos Jewellery, to learn a little more.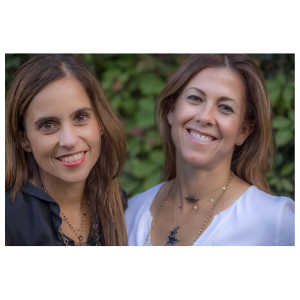 Tell us a bit more about the history of Santos Jewellery - when did you start?
Santos Jewellery was born out of a shared love of fashion and jewellery. After using my MBA to support a fast-growing business, I was keen to venture out into a field that allowed me to explore my creative side. Graziella had started out in a career in law, and was dividing her time between Miami and London. When she would come back to London she always had unique, edgy jewellery that I had never seen here. This piqued both of our interests, and before long we were scouting the market, embarking on specialist classes and basically doing everything we could to learn as much as we could about jewellery. Put simply, what started out as a personal passion four years ago has gone from strength to strength.
Why did you choose to design & create jewellery?
We are both mums to three boys each and took time off from our careers to raise our families. As the demands of raising a young family have somewhat fallen, we found ourselves craving not only a creative outlet but also a desire to impact women. Jewellery is about celebrating who you are - from ambition, strength, beauty and success. It is such a wonderful and simple way to express yourself.
What inspires your designs?
Our designs are inspired by everything around us and, where we come from. We consider ourselves to be global citizens having lived in the US, Mexico, Argentina and Europe. We are always absorbing things around us and we notice it comes out in our designs.
Is there a signature "Santos" aesthetic?
We like to take something classic and put a little twist on it to make it edgy, unique and just that much more appealing.
Do you have a favourite piece in this seasons collection?
This season we have taken mixing gold and silver a step further and have designed several two-tone pendants. We have a heart and a moon and stars, but our two-tone bee is definitely our favourite pendant this season! Using gold to accentuate small details on a silver pendant really brings it to life.
What will you be bringing to Scoop this February?
We are really excited about Scoop and will be bringing our core collection of lock necklaces and layering pieces. These are everyday pieces you can live in and layer to create different looks. Additionally, we will have our stunning diamond pendants and our enamel collection which is a gorgeous way of adding a pop of colour to your jewellery. The pieces are dazzling enough to wear to formal evening events, yet modern enough for everyday wear.
Why have you chosen to show your collection at Scoop?
London is our adopted and much-loved home. London women are just incredibly inspiring: they are diverse, cosmopolitan and individual. This is a great base and we are committed to building our brand here. We are proud of what we've done with Santos and feel Scoop is the perfect platform to launch our business here.
Meet Christina and Graziella and discover the Santos Jewellery collection at Scoop's AW20 edition from 9th - 11th February 2020 at Old Billingsgate.