---
Dec 18 | 2019
Scoop AW20 is right around the corner and we're celebrating the British designers who will be joining us on the line-up.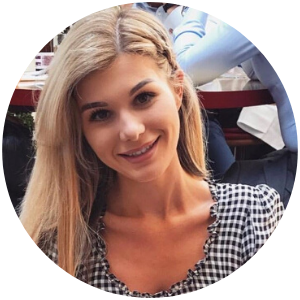 Scoop founder, Karen Radley, sat down with Sophie Freeman, creator of the beautiful Lyla Wilde label, to get an insight into the latest collection we'll be seeing at the show.
Do you consider yourself as a sustainable label?
I do consider Lyla Wilde to be a sustainable label. We try to be as sustainable as we can in all areas, which can be expensive, but in my opinion it's the way that all fashion labels need to be. We use cruelty free silk sourced from fair trade suppliers in India, and the vast majority of our collection is made to order, meaning we hold very little stock, which means less waste.
We manufacture everything in London, allowing us a quick turnaround time for customers who order online. Working in this way means we only produce items that we have demand for – we only order fabric that we know will be used.
Any leftover silk cuts, which would normally be thrown away, we use to create silk hair bows. We really try to create as little waste as possible and make everything as close to home as we can, so that we know it is made in an ethical and sustainable way, and importantly that the quality is kept to a very high level.
Our packaging is also all recyclable.
Tell me a bit more about your fashion background…
I actually didn't train in fashion – I did a Philosophy degree – which can surprise people. However, since I was at school I've designed and sketched clothes, and I've been sourcing and buying fabrics to turn into clothes and accessories long before Lyla Wilde started. Before I launched Lyla Wilde I worked for LVMH in marketing and PR, and every job I've had has been in the luxury industry, so the interest in the luxury sector has always been inherent.
I knew for years I would create a product and launch a brand, but I didn't want to replicate the same thing everyone else was doing. I waited until I had discovered a certain product need that I was passionate about creating, before I started putting it into action.
Can you share something about the collection you'll be bringing to Scoop AW20?
Our AW20 collection is a range of bold silk styles for the day-to-night woman. It's all about timeless designs; elegant cuts that fall off your body in a way that makes you feel otherworldly when you wear them. Each piece can be dressed up or down – Lyla Wilde is for the woman who wants to exude elegance for every occasion, whether socialising, travelling, or simply lounging around the house.
We are debuting some new styles at Scoop this season, including silk jumpsuits, new cocktail dresses, and skirts, which we are very excited to show.
Why are you joining the Scoop line-up this season?
I believe that the consumer is becoming more and more mindful in the way they buy – the market is continuously increasing for brands that are responsible and sustainable in their production, whilst maintaining a high quality for contemporary styles, and Lyla Wilde fits that market space. Our focus up until now has been learning about our customer, perfecting the things that we believe are most important to them, such as quality, fit, and customer service.
We recently took on our first retailer and that went amazingly; they sold out within two weeks and ordered more! The feedback from the retailer's customers was that the quality of our product exceeded that of competitors, which was obviously great to hear. We are now ready to expand this side of the business, and to form relationships with more retailers, and believe that Scoop is the perfect place to meet relevant buyers who may be a good fit for this.
Join Sophie and discover Lyla Wilde amongst our premium line-up of designers at Scoop this season. Register to visit the show from 9th - 11th February in the heart of London at Old Billingsgate.