---
Feb 06 | 2020
Our Founder and Managing Director, Karen Radley, has been catching up with some of our favourite British labels ahead of this weekend's show.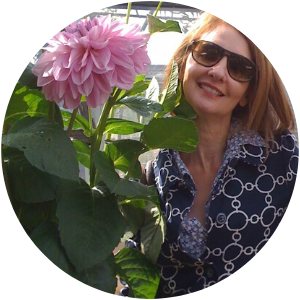 Tell me a bit more about your fashion background.
I trained in textiles and then did an MA in knitwear at The Royal College of Art. My first job was for Italian Knitwear co. Missoni., before returning to London to work at Nicole Farhi and French Connection. So, when I teamed up with Jane who was running her own knit and yarn consultancy, to form Quinton Chadwick it was obvious that textiles, colour and pattern, would be a big part of our brand DNA.
Why is the Made in Britain label so important to you?
The UK mills have some of the best textile heritage and skills around. It's great to be able to support them at a time when manufacturing generally in the UK is diminishing. It is more sustainable because it means goods have no airmiles, but it also makes us feel proud to help keep skills alive in areas where they have long been a strong tradition.
What made you choose knitwear?
Knitwear has an immediacy as a textile medium. It's also very expressive and fun and I love that you can knit on-the-go, anytime, anywhere with just a pair of needles. You can take it from a really simple hand knit to super sophisticated and technologically inventive garment produced on an industrial machine.
We want our cold weather goods to have longevity; our customers want to invest in a quality piece that they will keep and cherish. In a QC piece they can see the work and artistry that has gone in to making it.
Do you consider yourself to be a sustainable label?
Yes, in as many ways as we can be. We use only British mills for our yarn supplies as well as the manufacture. And we use 100% natural and biodegradable fibres; mostly lambswool and Merino or recycled cashmere. We like to combine traditional knitting techniques with new technology to make a more sustainable product. Our seamless hats and cut edge scarves are cleverly designed to ensure there is zero waste in the production process.
Our packaging is recycled, and any plastic bags used are now fully biodegradable.
Our accessories are now stocked with many stores that share the slow approach to fashion such as Liberty London who are great supporters of UK Craft and Merci store in Paris with its foundation in Madagascar, all helping to raise awareness for ethical fashion.
How would you describe the Quinton Chadwick aesthetic?
Colour and pattern; graphics and textures; warm and fun; durable and cherish-able.
Do you have a favourite piece in this season's collection?
Our Love gloves have moved onto new shapes and words and our fair isle and cable sweaters are an exciting addition specially when accessorised with our new pocket scarf.
Why are you showing at Scoop this season and what can buyers expect from you?
We have been loyal to Scoop from the outset and love the edited, high end feel of the show. With a spotlight on the artisanal in such a sympathetic surrounding.
From QC, buyers can expect a British-made product using only sustainable materials that is fun and on trend but that is made to last.
Meet Jess and co-founder Jane and discover the Quinton Chadwick collection this season at Scoop.