---
Feb 04 | 2020
With just five more days until Scoop takes over the beautiful Old Billingsgate, Scoop's Founder and Managing Director, Karen Radley has been getting to know the designers joining us.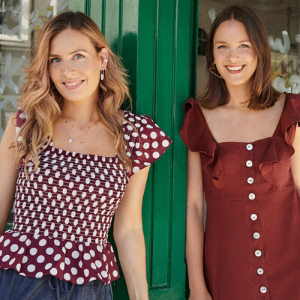 Meet Tansy and Victoria, lifelong jewellery lovers and founders of Tada and Toy.
Tell me a bit more about your career background and the history of Tada & Toy
We were at school together and have both always loved and obsessed over jewellery – from age 13 our dream was to build a jewellery brand together. After attending different universities, we came back together to start Tada & Toy. The driving idea behind Tada & Toy was to make good quality, playful jewellery that is highly wearable and easily incorporated into everyday life – jewellery as an accessible luxury.
Why have you chosen to design and create jewellery?
As designers we are driven to create jewellery that is accessible, modern and always effortlessly chic. The collections are designed to bring a little bit of sparkle and luxury to your everyday life - simple enough to be worn all the time and stackable for more of a statement look. Each design has a playful Tada & Toy twist offering an edge whilst retaining an approachable friendly feel.
What does your name, Tada & Toy, mean?
Tada is Tansy's childhood nickname and Toy is Victoria's. We wanted a name that was unique, personal and could become its own entity.
How would you describe the Tada & Toy aesthetic?
We are an earring only brand, focusing solely on building a collection of dream earrings. We see ourselves as designers of the ear.
Tansy, we are supporting The Aspinall Foundation this season. Can you tell us a bit more about the foundation?
Both of us have a deep love for animals and wildlife. Tansy's grandfather John Aspinall started the Aspinall Foundation, which her father now runs. The foundation is an internationally renowned animal conservation charity working to save species from extinction. They have projects all over the world, in Africa, Java and Madagascar as well as providing support to other wildlife foundations around the world. Their work helps to ensure that some of the most endangered species on our planet are being saved from extinction.
We support the charity by donating 5% of all sales and 25% of sales from the charity collection. We hope to grow our support of the foundation and start our own conservation projects in the future.
What can buyers expect from you at Scoop this season?
We will be showing our new Black Sand Collection, full of sea creatures and sparkling stones!