---
Apr 08 | 2020
As the Scoop family continues to inspire us with their inexhaustible positivity and acts of kindness, Scoop's founder and MD, Karen Radley, sat down with the wonderful Claire Doe to find out about the fantastic work she's doing.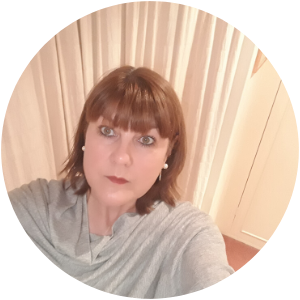 How have you been coping with the lockdown so far?
The first week was difficult…..all of my business is with department stores, boutiques, spas and travel retail including cruise ships and inflight so as you can imagine I have had no orders dispatched since the middle of February and all face to face appointments cancelled from early March. For the most part I have tried to keep myself occupied and not thinking too much about what the new 'normal' is going to be like. It will be what it will be.
I understand you've taken up crocheting – are you enjoying it? Can we see some pictures of your work?
I did a beginners' crochet course about 5 or 6 years ago and hadn't kept it up….although I have lots of wool stored in a cupboard. So I decided now was a great time to pick it up again as following a pattern needs some concentration and keeps my mind busy! I have to admit I was pretty rusty and had to watch a few YouTube videos to remind me of certain stitches.

You've also volunteered to help the NHS during this difficult time, as part of the Check-in and Chat scheme. What inspired you to sign up?
As soon as they put the call out for volunteers I knew that I wanted to sign up. If I was going to be sitting at home in lockdown with no work then it was a great opportunity to help those who have been advised to isolate for 3 months and may be feeling vulnerable and lonely. I have therefore joined the Royal Voluntary Services as an NHS Volunteer Responder. Alerts are sent out via an App.
Do you know what you'll be doing?
The main purpose of the Check-in and Chat is to give telephone support and to make sure that the person is managing OK. They may just want to talk or they may have questions or concerns about getting food, medications or if and when they can go outside etc. If they need further contact then it is reported to the support services who will take the matter up with their GP or other organisations.
Tell me about what you do in the "outside world" – how long have you been an agent?
I have been a sales agent for over 25 years. My clients are beauty and accessories companies.
Your agency is a family business – what's that like?
My father started the company in 1994 after he was made redundant. His former Sales Director and I joined him to help out initially with a South Korean skincare range which sadly was never launched in the UK. It was great working with him and it completely changed our relationship…..in a positive way!
Can you share a bit more about the designers you work with?
I have worked with Moliabal Milano since 2011 but have worked with the Founder of the company, Monica Masini, for over 15 years. Moliabal Milano bags and accessories are distinctive and fun and all handmade in Italy. I have just starting to work with Pietrasanta Bijoux who I met at SCOOP in February. Their beautiful jewellery range is inspired by the glamour of Italy in the 60s & 70s. I also work with a British print designer, Laura Orchant, who has a range of stunning printed scarves as well as clothing such as kimonos, shirt dresses, skirts and wrap dresses. My other clients include a Beverly Hills Dermatologist who has an amazing range of skincare as well as a Spanish range of beauty accessories.
Finally, are there any positive words you'd like to share with the fashion community?
I know that many people are despairing at the moment and maybe finding lockdown difficult to cope with. I have taken advice from various experts I have been listening to via news reports or webinars: 1) I limit the amount of news that I listen to in a day 2) I have picked up a hobby to keep my mind occupied 3) I have started doing pilates once a week via video streaming and make sure I go out for a walk every day for fresh air, and 4) I have a virtual lunch every Thursday with two friends via WhatsApp video and coffee with a friend on the Isle of Wight every Wednesday morning via WhatsApp video, as well as taking to my parents and family daily. I am giving myself space to relax without feeling guilty. We are all in this together and we will come out of it. I am certain some things will have changed but I think/hope everyone will be a little more thoughtful, understanding and caring in the way that we interact with each other as we all try to get back to 'normal'.
Have you got a story that you'd like us to share? Tell us about your acts of kindness or positive news via email or on social media.