---
Jun 16 | 2022
Yes, It's been a huge part of my life for as long as I can remember.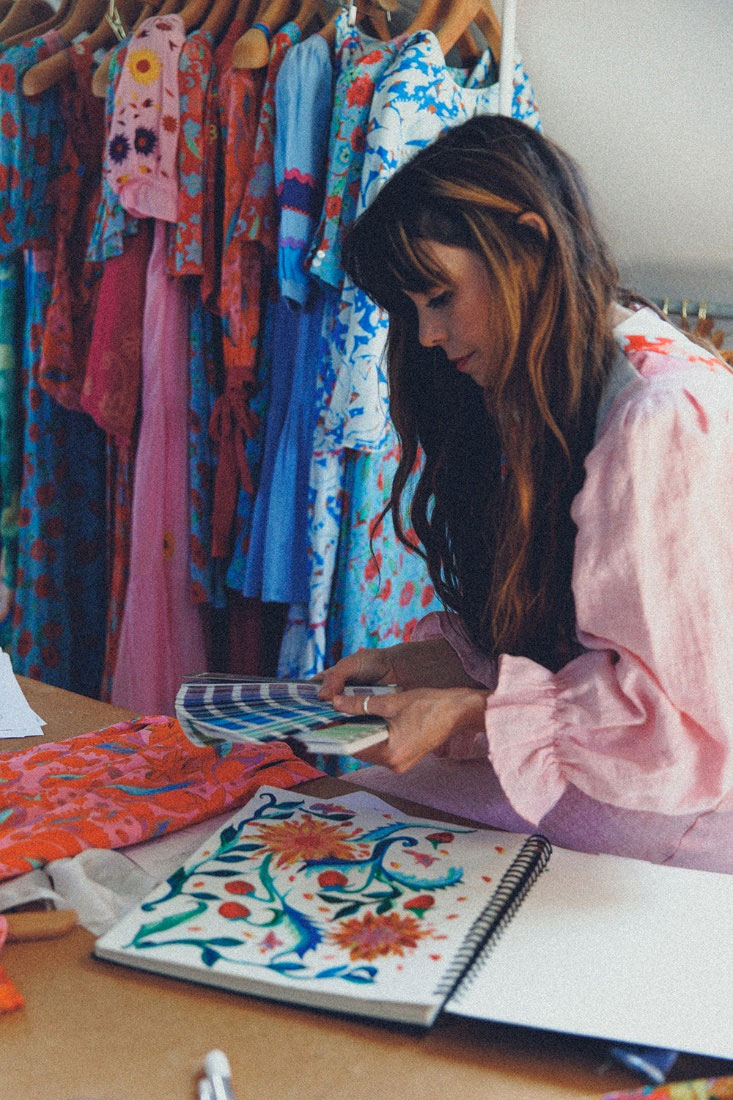 Faye – have you always been interested in fashion?
Yes, It's been a huge part of my life for as long as I can remember. I grew up on a farm in Wexford, Ireland where I was surrounded by antiques, salvaged and re-purposed furniture. The importance of being creative and resourceful are values that were instilled in me as a child and reflected in my designs today. As kids, my sisters and I were always making. By the age of 12, we ran a children's craft shop selling our wares to passers-by. I began to sew as soon as I was able to and I made my own clothes (badly) from up-cycled clothes and upholstery textiles. Ruffled curtains became flares, tights became tops and I made denim bags from jeans.
Can you tell us about your extensive design background?
After graduating with a BA honours degree in fashion I focused on gaining experience with as many different aspects of design as I could. I was always passionate about colour/ vibrant prints and I identified most with brands who were focused on creative and sustainable use of textiles. I travelled a lot for internships and work placements to gain experience. I spent time working at Andrea crews in Paris, Bora Aksu and Philip Treacy in London and at Diane Von Furstenberg in New York. After years of designing for commercial retailers , I left my position as a designer for Free People in Philadelphia (6 months pregnant) and returned home with my husband to Ireland to embark on a new chapter and begin the FéRí journey.
I love the name FéRí– where does it come from?
We are a brand inspired by colour, fantasy, wild mythical flowers, antiques, day dreaming, Irish folklore, vintage silhouettes and nostalgia. 'FéRí' is a fictional Irish word that I embodies the whimsical nature of the brand and its 'Ferifolk'. As soon as I made it up, I fell in love with it for our brand name. Pronounced 'Faye-Ree' it also feels connected to my name, Faye Rochford.
When did you launch FéRí?
I launched FéRí in March 2020, at the beginning of the pandemic so it has been a really interesting time to work as an independent brand. It challenged us to be resilient and determined, as we learned how to navigate the current social and economic challenges.
Would you say sustainability is the DNA of FéRí?
We all have a responsibility to protect our planet and our people. We are a slow fashion brand and we don't try to compete with the speed and trend driven pace of other brands. We create conscious clothing that we love to wear ourselves with a focus on natural and organic fabrics. Our designs are hand-made in small quantities to avoid excessive production in a small, fully certified, female owned factory in India. Each piece is designed in my studio in Ireland with prints that I hand-paint. We up-cycle any unsold pieces and find use for all of our fabric cut-offs. The optimistic hand-writing of our collections are designed to bring joy to the wearer and to be cherished. Although we have limited resources in what we can achieve as a small independent brand, we are always striving to do better and we guarantee our honesty and our commitment to our responsibilities by being transparent in what we are doing today. We stand over our motto 'Wear, Care, Mend, Lend' to encourage a circular economy within our community of Ferifolk and beyond.
When you design the FéRí collection - how are you inspired?
Each of my collections starts with a painting that then becomes a print, a colour story, a collection. The subject matter of the paintings are almost always nature based. The flowers and motifs that I paint are not a realistic depiction of a flower , they are fictitious, inspired by fables and imagination. I have a very vivid memory of our childhood dressing-up box. The nostalgia of trawling through the vintage dresses , silk scarves and oddities continues to be a source of inspiration for me today. We blend traditional bias cut silhouettes of the 1940s and the 1980s with unexpected prints, colour or embroideries to create pieces with an authentic FéRí twist.
Is there a signature look for FéRí?
Yes -We love a FéRí printed dress -free flowing and cut on the bias, styled with western boots, enjoyed in a summery field of wild flowers!
Who would you say is your FéRí customer?
Ferifolk , the name we use for our customers or tribe, are confident and free-spirited.They love colour and are not afraid to express their individuality. They are interested in the story of clothing, what inspired the piece that they are wearing , where it was made and what it's made from. Our clothes trigger an emotional response in the wearer. Like us, they desire to feel beautiful and look cool but wish to achieve this through a slow fashion piece that they will love as much in years to come as they do the day they buy them.
If a woman was to own just one item from your collection - which one would you suggest and why?
It has got to be The Aisling dress. Aisling is an Irish name meaning "dream" or "vision" This dress is a FéRí favourite
Do you have any words of positivity to share with our Scoop readers?
One of the kindest gifts you can give yourself is time to fully loose yourself in your creative flow, whatever that may be.