---
Jul 01 | 2022
I don't really have a "background" in the fashion industry, but before, I had my own graphic design studio, and I liked applying prints on clothes the most.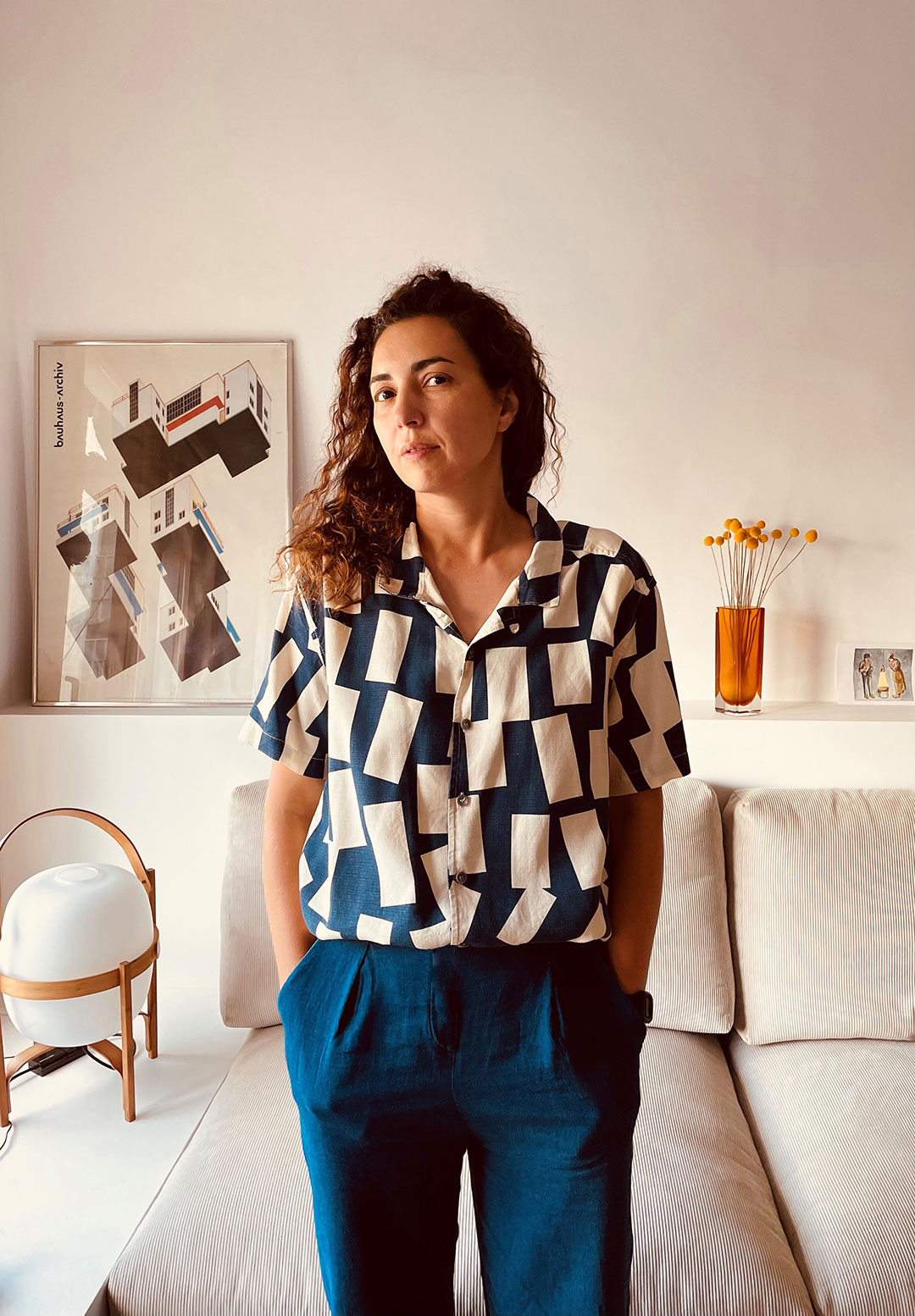 Adriana - Can you tell us about your fashion background?
I don't really have a "background" in the fashion industry, but before, I had my own graphic design studio, and I liked applying prints on clothes the most. Together with this, my motherhood led to the birth of Bobo Choses in 2008, when my former associate and I realised that we couldn't find nice clothing for our children. We quickly detected that there was a gap in the children's fashion market. I remember that the brands we admired were "Nordic", and there was no brand in Barcelona nor shops to find that kind of design by then. Everything was much more classic, no-fun, with a huge difference between boy and girl's clothes. So we decided to create a mini-collection of T-shirts, with no idea of how we would sell them. And here we are, a few years later, explaining stories through clothing. I think that was the key factor that differentiated us from other brands. We want to become their favourite t-shirt or print.
A few years ago, I realized there was also very clear space for Bobo Choses in adult fashion. So, we began to develop an Adult line that currently has its path and story and meets the needs of both mothers and women looking for color and fun in their day to day.
When you design the Bobo Choses collection - how are you influenced? Do you have a fashion designer or icon who has inspired you?
I like to think that anything can serve as inspiration. You can find it in a book, a photograph, a song, a movie... Our collections always have a look at our childhood, sometimes it is as if we resist getting older. I like to observe how people dress in the street, travel, and discover new things for inspiration.
I am fascinated by rationalist architecture, the Bauhaus school, Le Corbusier, Josep Lluis Sert, and Eames, Jean Prouvé, Ettore Sottsass, and Miguel Milá. There are also many artists that I like, Joan Miró, Sonia Delaunay, Henry Matisse, Joan Brossa, David Hockney, Calder, and Jean Arp. But even designers and illustrators like Eric Carl, Bruno Munari, Enzo Mari... In the world of fashion, Coco Chanel, Rei Kawakubo, and Josep Font are some of my key references.
Is there a signature look for Bobo Choses?
We love testing and researching patterns, fabrics and prints. Each collection is unique, but it is true that some garments are produced year after year with some changes that we apply by learning. For example, in summer we usually make different types of kimonos, because they are very fresh looks, with their own identity. In winter, the adult collection has the overall as a must, and it has already become an iconic garment.
Do you have a mission statement for the brand?
At Bobo Choses, we have always been responsible for our social and environmental footprint. We strive to create products that respect our environment and continuously improve the sustainability of our production processes. This is and always has been our mission, replacing conventional materials with more sustainable ones that have a lower impact on both nature and human health, locally made production and social responsibility. We try to reuse, recycle and reduce everything we produce. For example, we have managed to create a permanent collection made with recycled, upcycled, and natural materials that rescues the most iconic and beloved prints and patterns in the brand's history, called ICONIC COLLECTION.
Who would you say is your Bobo Choses customer?
Bobo Choses goes beyond children's clothing now. As a company, we have values and a philosophy that people respect and identify with. We try to connect with the little ones through content, such as illustrated stories, both digital and offline activities…, that awaken their creativity. And with adults we are looking for the same thing, to go back to the origins of childhood... to not be afraid to combine colours, to take risks with prints and to go crazy. Bobo Choses' motto has always been, Have fun!
We like to think that our customers care about our environment and support the way we work with our suppliers and the way we treat the planet. We want to think that what we do has a reason for being and is very authentic. And we want to make our customers feel the same vibe.
If a woman was to own just one item from your collection - which one would you suggest and why?
Well, It's hard to say because I took part in all of the collections. And I have fond memories of all of them. Probably because we are from a Mediterranean city, our Summer collections are brighter and more cheerful. I love the song we created for "The Happysads" collection, but also the values of "Dear World", the colours of "Neverending Summer" or the prints of "To make a garden", or even the "Beauty Everywhere" t-shirt from the collaboration with Anthropologie… I can't decide! hahaha :-)
I think the prints of the first collections are very iconic and characteristic of the brand. The Apple, the Cloud, and the Bowler Hat are very characteristic of the early years, and they have become a reality again thanks to the recently launched Iconic Collection, our most sustainable innovation.
Do you have any words of positivity to share with our Scoop readers?
When everything seems to be falling apart, and everything is for "right now", we think that recalling the way of seeing life from our childhood can be incredibly powerful to make things better. Let's enjoy life, and its little moments, share good things with the people you love and grow away from the monster of routine in this digital age. And above all, have fun, and let the child inside you come out. It is always right!