---
Jan 08 | 2020
Scoop is the show that brings fashion and art together in the heart of one of the world's creative capitals, London.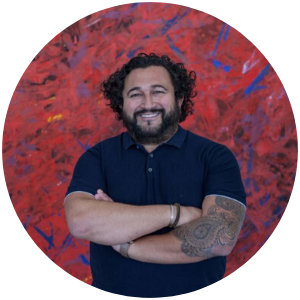 This season, we are delighted to welcome Oliver Merlin to the Scoop family, as our artist in residence. Oliver will be auctioning off his brilliant artwork at the AW20 edition of Scoop to raise money for a charity close to our hearts here at Scoop. Ahead of the show, Scoop's Founder and Managing Director, Karen Radley, sat down with Oliver to find out a bit more about his colourful artistic background.
Tell me how you discovered your talent and passion for art
At school; I was in a still-life drawing class. I thought I was doing ok, but I kept getting in-depth and I thought, harsh critiques from my teacher. I looked around and my work didn't look any worse, to my eye at least, than any of my class mates but he wasn't critiquing their work to the same degree.
He told me afterwards that it was because I had talent and he wanted to push me.
I went on to sell all of my GCSE and A-level work. That's when I knew.
Are you self-taught?
At the Whitgift School in South London, I was taught the fundamentals by the wonderful Henry Maslin and Henri Melotte. They were both talented artists in their own right and even better teachers. They taught me how to draw still-life fruit and a cat and a person; a portrait. Then they encouraged me to express myself and move away from representing what I could see, to showing what I was feeling.
Is there a particular topic that inspires your work, or a theme that you communicate?
I always work with an interior theme, that is to say, a 'feeling' or condition such as Insomnia or Amnesia, rather than paint a literal subject like say the London skyline.
I am showcasing seven of my series' in this show:
Insomnia is a condition I suffered with a few years ago and the pieces on show here from that series reflect the chaotic restlessness that condition manifests in the sufferer.


The Amnesia series talks to a feeling of déjà vu and also of losing and narrowly missing people and figures from one's life. The blurry atmospheric quality hints at people we once knew whom we have forgotten or passed on and are at once out of reach. Moving on and coming back.


Interior was painted in response to the death of my father 3 years ago. Whilst the majority of the paintings are dark and sombre there are flashes of light and brilliance which symbolise the celebration of his father's life and enduring memory. Memories returning to comfort and haunt.


Exterior is joyful celebration of my partner overcoming and defeating breast cancer. The vibrant pink – the colour of breast cancer awareness and energetic red signify the positivity and mental resilience needed to overcome this trauma. The coming again of a second chance.


The Rushes series are the closest I have come in the past few years to observational work. I was commissioned to paint a romantic series for an iconic restaurant in Ibiza. I wanted that dreamlike sense that Monet produced with his waterlilies; and of course, Rushes, as with so much of my other works, has a second meaning.


Strangers is a new series that hauntingly evokes that strange phenomena of people treating each other as strangers despite knowing each other. That sad facet of human behaviour that doesn't value human interaction.


​Fire is the passion that burns within the artist to create, express and live vibrantly, almost in contrast to the darker themes I also explore; it's the defiance of the coldness of Strangers.
You split your time between two homes: London and Ibiza. How do these two places complement each other in your work?
It's very simple: balance. Balance is something I have been searching for all my life. The two places, and most importantly the people I have in those two places give me that essential balance. Both places have energy and light and also darkness. Ibiza is so calm and slow compared to London. And of course, here I have the hustle and bustle. In my work there is always light and dark; calm and energy. You couldn't definitively say which one comes from where though.
Can you share some of the stories behind your most recent works?
I suppose the most poignant story and the one that affected me most in my recent series was finding out that my partner had breast cancer in May 2016. The rest of that year was spent fighting that with operations and hope. Then my father died on Christmas Eve 2016.
There was an understandable dearth in creativity and for at least 6 months I didn't even think about painting. I had nothing, I was numb. The death of my father hit my mother very hard and I had to stay strong for her. The discovery of my partner's cancer brought some far-reaching dark thoughts, but mostly we were absorbed by immediate events: appointments, operations, logistics and how to manage not to scare our 5-year-old son with it all.
I couldn't paint.
Then in the late summer of 2017, after my partner had finally successfully beaten the cancer, I had a couple of weeks to myself. It all came out. All the emotion, it all seemed to make sense and I painted 7 paintings in each Series, 14 in total in a huge creative explosion: Interior for my dad, Exterior for Sarah. Needless to say, it was a cathartic experience and both series received lots of acclaim and compliments in a commercially successful show in Ibiza in early 2018.
I understand you are keen to support Scoop this season as we highlight the maltreatment of elephants and animals in the wild. Is this an issue that is close to your heart?
Yes, I am donating one of my paintings which we will be auctioning at Scoop. You can't be ignorant of the world around you, everything is linked, we are all linked together.
In Ibiza we have the 'Posidonia' sea grass forest and I support the Ibiza Preservation Fund which does its best to preserve this beautiful UNESCO World Heritage site.
I also auction a painting every year for Care 4 Cats which is a charity that cares for stray cats on the island.
It's important to stand up for animals against humans as they can't do it for themselves.
Scoop is founded on the principle that fashion and art go hand in hand – what does this mean to you?
They can't be separated; fashion is a living art.
When you look at all great designers, they are all capable artists. They can all draw, they can all paint. Both fashion designers and artists start with a vision of the end result; they may not know exactly how they are going to get there, or, all the steps that may be required on the way; they may change their minds along the way.
However, the tie that binds us all together though is the creativity to have the vision and the courage to try to execute it.
Viva art, viva fashion.