---
Oct 20 | 2022
Karen Radley meets Jonathan Chamberlain Founder of Inside Out Agencies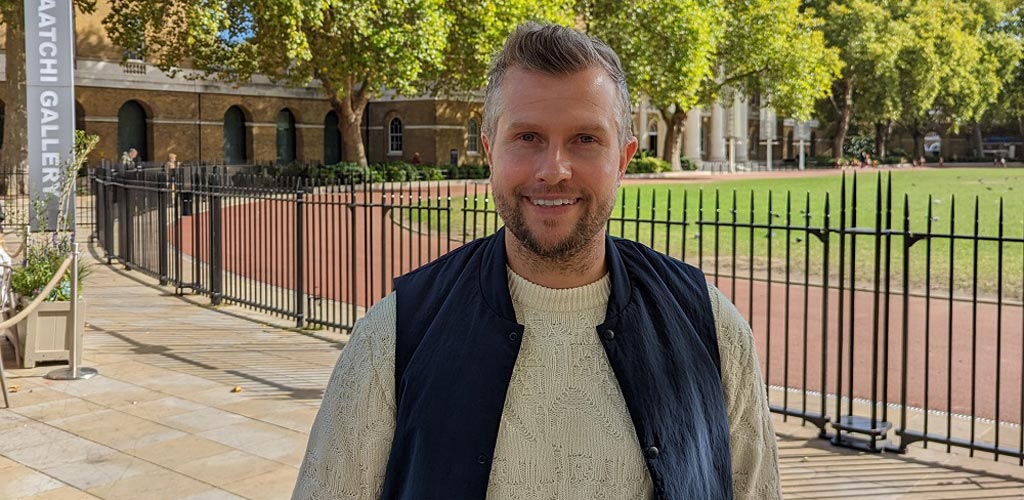 Tell me about your fashion background?
I started in retail some 20 years ago working in Fenwicks Menswear. After university I continued working in a couple other Menswear stores in between some freelance design work and traveling before joining Paul Smith as a Sales Assistant in the suit room at the Floral Street store. I really enjoyed my time there, developing interpersonal sales techniques and my love of working with the products and this led to progressing into store management. After a couple of years in store, I knew I wanted to work on getting into wholesale or buying and to understand that skill set more. Thankfully an opportunity came up in wholesale at Tommy Hilfiger and like in most stories, some key people took a chance on me. This was the start of my wholesale journey and I progressed within the PVH company over six years, working on the evolution of Tommy Jeans and the rebirth of Calvin Klein Jeans. It was an exciting time to be working there. I then had an interest in becoming more involved with product development and accepted a role working with a licence business within the Frasers Group. Here we worked on creating collaboration ranges for other major retailers. This led into an exciting opportunity to head up wholesale for G-Star Raw, which was more of a brand repositioning project. Launching the most sustainable 'Cradle To Cradle' Gold Certified denim and capsule collections with Jaden Smith.
All in all, during this journey I've thrived on learning and developing.

When and why did you set up Inside Out Agencies?
I've always had a dream to take my passion for my work and ideas and to then turn that into my own business. I believed in myself enough to give it a try. I set up the agency 3 years ago now, along with the help of my wife Emma who has a background in project management, so we have some strong skill sets that complement each other. With the growth of the agency, it's exciting to now have a sale team and a great permanent showroom space.
Which collections do you represent?
Our collections cover a variety of different areas, but ready to wear on Mens and Womenswear represents the largest part of our agency. We're very lucky to work with some great brands including; North Sails, Hackett, Michael Kors, Pepe Jeans, Noella, Dr Denim and Mos Mosh. We're also incredibly proud to represent some original sustainable brands, such as Dedicated and KnowledgeCotton Apparel.
Where are you based?
Our showroom for most of our brands is currently in Wandsworth Town, a really nice area of South West London. We show Hackett and Pepe Jeans collections out of showrooms on Savile Row.
Will you be bringing any new designers to Scoop in January?
We're excited to be showing Dedicated, AW23 is our first pre-order season with the brand. We're really looking forward to showing the huge strides forward made on the development of their ranges, with some interesting prints across collections.
How important is it to have a significant event to showcase Menswear in London?
I think there's definitely a space for mid to higher end menswear brands looking to show in London. In the premium area you have brands that carry out runway shows or have stand alone events. There are also other UK trade fairs that focus on particular product areas, specific looks or aim at the lower end of the market. So in my view there isn't anything quite like the profile of the Scoop show and for the level of store that its suited to. I think Scoop is a great opportunity for those mid to higher tier menswear collections to get involved, especially if they have womenswear collections to show as well. I've noticed the buyers attending Scoop are mainly looking for lifestyle brands with relevant on trend newness and commerciality. The overseeing buyer is often the same for both genders.
Do you have any encouraging messages to share with our Scoop readers, looking to attend the upcoming fair?
I would say, consider being open minded to looking at menswear collections whilst at Scoop. A lot of attendees will be buying across collections for their store anyway, so why not check out more of what brands have to offer across Mens and Womenswear. Scoop has a super friendly, aspirational environment for everyone to enjoy - so I'm sure everyone is looking forward to the show!