---
Nov 10 | 2022
Karen Radley talks to Antonia Reinaas founder of Osond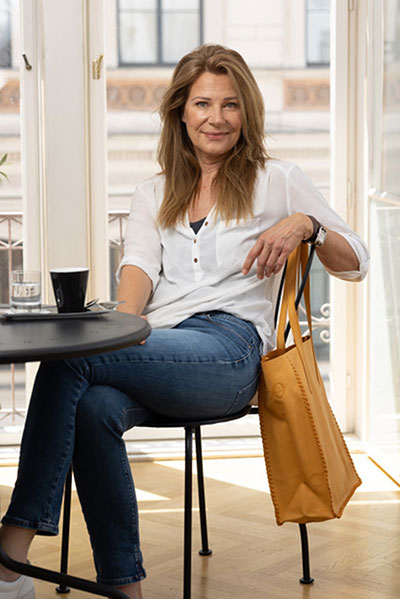 Antonia where do you live?
I live partly in Vienna and partly in Portugal, on the countryside in the Alentejo on a farm beautifully placed between cork trees and sheep.
How did you start your career in fashion?
I actually started late in life as I used to work many years as an opera singer. As fashion always interested me, I used to design my own outfits and also did some studies in fashion design. The OSOND shopper creation is my first official venture into leather design.
What is your coffee order?
In Portugal a very short expresso, in Vienna usually a Kleiner Brauner an expresso with a bit of milk.
Do you have a mission statement for the brand?
As I always liked elegant simplicity but with a special touch to give it the necessary chic and at the same time practicality or comfort, my mission ist to create fashion of understated chic combined with comfort/ practicality.
When you design the collection - how are you influenced?
Usually by my own creativity combined with the above mentioned criteria.
Is there a signature look for Osond?
The threads that are always worked into the bags.
Who would you say is your customer?
I quote the words of a fashion label I very much like "Let&Her", as I couldn't put it better. The collection is for women beyond the obviousness of a designer label, who needs no one to label her - she is her own brand". And I add, for women who
enjoy understated chic, high quality and practicality.
If a woman was to own just one item from your collection - which one would you suggest and why?
I'd suggest my shopper Coimbra as it is elegant, a comfortable size and yet got all necessary practical interior.
Is there a fashion designer or icon who has inspired you?
The above mentioned Let & Her regarding leather design, as for fashion probably mostly Versace as I love his flowing gowns, Max Mara and Jil Sander.
Where is your favourite place to shop?
That is hard to say. I love shops that are out of the usual, unconventional and a bit bohemian. The shop of client Marina Anouilh in Gstaad is my absolutely favourite, also Henryk's in Vienna (that's why my bags suit the style of these shops so well) and so are some shops in the Algarve. But, believe it or not, I am a poor shopper who only goes out to shop when I need something and I usually know where to get what I need and am quickly out again. Therefor my most interesting outfits derive from per chance purchases when I suddenly saw something striking in the window or are my own creations.
What keeps you up at night?
Now that is a challenging question! Nothing easily as I am a morning bird and fortunately have a very sound sleep. So the occasions that would keep me awake would be either a great passion, exciting positive thoughts or ideas, or in the worst moments my own ghosts haunting me.
Do you have any words of positivity to share with our Scoop readers?
Live an authentic life and be courageous enough to be true to yourself against all fears and obstacles - then you feel alive.