---
Apr 10 | 2021
Scoop founder Karen Radley caught up with Lewis Yates as he prepares to reopen his Billericay-based boutique.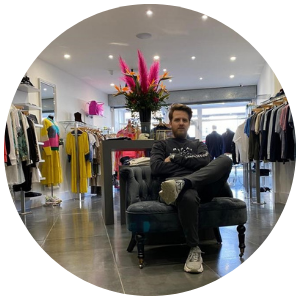 Tell me a bit about the Lewis Yates history; when and why did you start the shop?
I opened Lewis Yates in 2008, after working in the City. I found friends would often travel from Essex to the West End to go shopping. I realised there was a gap in the market for men and women's luxury fashion houses having a presence in this part of Essex and so I worked hard to build relationships with over 30 labels from around the world, including Sunspel, Hugo Boss, Belstaff, Hayley Menzies, Essentiel Antwerp and Vivienne Westwood.
Having the designers on board, I then built a business based on the principle of unparalleled customer service. I wanted every client to enjoy their experience with us, knowing we would find a way to accommodate whatever they needed.
You're based in Billericay– can you share what you love about the area?
Our store sits in the heart of Billericay High Street, positioned perfectly between a range of cafés, restaurants and other unique independent shops. We are a close community and our clientele ranges from hard-working mums to international footballers. Because we offer a differentiated service, we attract people from a large demographic area and are proud to bring them into Billericay.
How has the pandemic affected you? Have you had to make any changes to the way you run Lewis Yates such as going online or using more social media?
The pandemic and lockdowns have been tough and our shop has been closed for most of the last year. However, I had thankfully invested in building an online store and launched a shopify site to make the products more accessible. We increased the frequency of communications with clients and tailored our products to their changing needs. I also focused on our social channels, with Instagram becoming our new shop front! We've also leveraged click and collect and postal delivery services to keep the business operating.
Have you had to make any alterations to the shop to prepare for reopening?
Like all high street retailers, we've had to adhere to strict social distancing guidelines, with sanitation and deep cleaning regularly. The shop itself has been renovated recently so we've not had to do too much, but we have fresh stock, fresh decorations and are raring to go now.
What are you most excited about for reopening and the year ahead?
I think my team are most excited about seeing all our wonderful customers again - they really do become extensions of your own family and we've missed them! We've got some beautiful new summer collections and we can't wait unveil them!
Are you stocking any designers or collections that you're particularly excited about this season?
Over the past few seasons we have re-positioned our womenswear portfolio considerably introducing fashion-led brands such as Hayley Menzies, Fabienne Chapot and Essentiel Antwerp which has been very well received. We have also taken the hand of Hugo Boss for menswear. It's commercial and we're hoping it brings in a new customer for us.
What would you say the Lewis Yates aesthetic is?
Lewis Yates has always strived to go that extra mile for our customers to make the experience personal, whether it's same day tailoring, luxury gift wrapping or home delivery. We love seeing customers walking out with a Lewis Yates bag and a smile on their face.
Do you have any words of positivity to share with our readers?
You have to adjust. You have to ensure you are being relentlessly pro-active by marketing your product on social channels…it's important to give your customers a reason to shop with you!