---
May 04 | 2020
As we persevere with our "new normal", Karen Radley has been talking to friends of Scoop to find out a bit more about their working from home routines and how they're coping with the lockdown.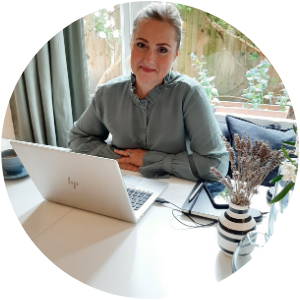 How are you family doing in Denmark?
My family in Denmark are fine. The area of Denmark they live in has only had 13 cases of Corona in total and no new cases the past week. But I think these challenging times have shown the importance of community. We are truly all in it together, and that attitude is also what has enabled Denmark being one of the first countries opening up again: The sense of cohesion is strong both on a professional and a personal level. In Denmark as well as here in the UK, I also think we are more aware than ever about how important our neighbours, friends, family, colleagues are in times like these. We are helping each other to get through it, and that collaborative spirit is also what will help creative industries come roaring back after this crisis. I have no doubt about that.
And what about you - how are your family coping here with the lockdown so far?
I have a 6 year old son and a 2 year old daughter. So we are trying to juggle home-schooling, play time and two parents working from home full time. I do though consider myself lucky that my family are safe and only impacted to a limited degree. However the fashion industry is bleeding – also in Denmark where loss on debtors, depreciation of stock and a loss of more than 50% of the industry's earnings is to be expected due to Corona. So I cannot complain.
Can you share your working from home routine with me?
Routine is key so we try to live our lives as close to what we would normally do. So my day starts early with a morning run in Battersea Park followed by my usual routine of getting ready and dressed as if I was going into the office. My partner works in the morning while I home school and play with the little one. After lunch we switch so I get a chance to put in the hours too. After the children have been put to bed, we often end up working some more. We sleep well at night!
How long have you been at the Danish Embassy in London?
I have headed up the design and fashion sectors at the Embassy for about 12 years now!
Why is the British market so important for Danish designers?
Brits and Danes are a lot alike. We share the same humour and appreciate quite a few of the same things in life. So for instance within fashion, Danish designs are often simple, of high quality and made in a sustainable manner. All factors the British consumer values and demands to a certain extend.
Finally, do you have any words of positivity you'd like to share with the Scoop community?
I know it is a self-help cliché but don't focus on outcomes. For me, too much attention on "I must be happy" is counterproductive. Instead think of the things that make us happy.
A wise 90-old woman recently said on TV "We will meet again". Those words stuck with me. See you at Scoop!
Tell us what you've been up to during the lockdown. Whether you're a designer or a retailer, we'd love to hear from you. Email us or use #InspiredByKindness on social media.