---
Apr 27 | 2020
As the lockdown continues, founder and MD of Scoop, Karen Radley has been chatting with some of Scoop's regular visitors, to see how they're adjusting to life in their home offices…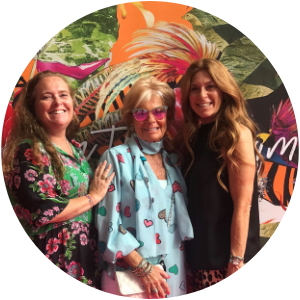 How are you coping with the lockdown so far?

The lockdown has been a challenge but working at home the ambience is so tranquil, the pull of sitting in the garden sipping on a coffee is hard to fight!

Can you share your working from home routine with me?

I watched Kelly Hoppen's blog and she encouraged her viewers to set up an office and make a routine. So I have set my alarm (later than usual, but hey) to make sure I get up at the same time, drink a hot lemon and fresh ginger, take some extra vitamins and start on my emails sending encouraging messages to suppliers and clients. I am building a library of all the gorgeous clothes our customers have not yet seen, with the intention of promoting them on social media when the appropriate time comes.

Have you taken this time to take up any new hobbies or causes?

I have taken to meditating with the Insight Timer App. I was extremely anxious at the beginning of confinement and this has really helped. I do a morning meditation session which is an affirmation focusing on starting my day with positive energy and appreciation.

You're living in Paris at the moment. How long have you been there and why did you choose to live there?

I have lived between Paris and London for over 30 years, but I am still very proudly part of our UK family retail business, Harpers. My mother Karol Solomons encouraged me to come to France to be on the continual search for new and exciting brands to keep Harpers at the forefront. Product selection is my forte, whereas my mother never tires of fashion and trade exhibitions, excitedly researching every stand that catches her eye, often finding brands that are unexploited but fabulous. My sister Lucy is the trilingual, practical piece of the puzzle, testing us both while we are buying! We have a system and, as a family of workaholics, it takes all three of us as a team to make it work!

Tell me a bit your family business, Harpers…

My grandmother Gertie Book initiated the idea in bringing continental designer clothes to the UK. Attending Valentino`s first ever show in Rome, my grandmother brought his collection to her famous Models Room at Books Fashion in the north east of England. 48 years ago, my mother became a similar pioneer bringing international designers to the London suburbs. This was so ahead of its time; Bond Street retailers ventured to Edgware to see the phenomena. Karol, my mother, has dressed three generations with clients coming to Harpers for every occasion, whether it is for evening, special events, all-year-round swim and holiday wear or just because they want to look fabulous every day.

Do you have any business concerns once the lockdown is lifted?

To be honest, I am analysing Harpers winter buy, and thinking about organising staggered deliveries. Most importantly however, I have written an open letter to many influential players in the British fashion business in order to protect smaller independent companies. My concern is for the retail situation when we re-open. I feel there needs to be a collective decision to protect brand image and not go on sale too early. To support one another, we as retailers all need a good couple of months selling full price brands to be able to juggle financially.

Finally, do you have any words of positivity you'd like to share with the Scoop community?

Everyone has a coping strategy. Mine is to remember that this is my favourite season ever at Harpers and the 2020 summer collections are simply gorgeous! I believe our loyal customers will absolutely make the choice to buy what they love. After all I am a glass half full girl!
Tell us what you've been up to during the lockdown. Whether you're a designer or a retailer, we'd love to hear from you. Email us or use #InspiredByKindness on social media.