---
Nov 22 | 2019
The buyers who attend Scoop make the show what it is. From big name retailers to premium boutiques, Scoop attracts some of the best in the business.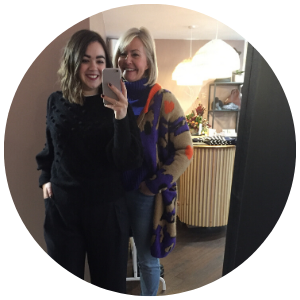 This season, we're celebrating some of the newer indies out there. Scoop Founder, Karen Radley sat down with mother-daughter team Andrea and Beth to find out more about their beautiful boutique.
KR: Beth, why have you called you new shop Will & Ward?
BW:
After lots of consideration we eventually settled for WILL & WARD, Ward is our surname and Will was Mum's maiden name. The branding was so important to us, we were really conscious that we wanted to create something recognisable. We researched, sketched and came up with the logo. The graphic designer worked very closely with us to get it just right.
KR: Andrea, can you tell us a little more about your retail background?
AW
: I have worked in retail most of my life. Working for small independent and large department stores. My positions included; shop floor stylist, personal shopper and management. My experience has benefitted me greatly from shop floor customer focused to managing stock, staff to merchandising and event planning.
KR: Beth, I understand you were a fashion buyer - where did you work before?
BW:
Yes, that's right, I studied International Fashion Marketing BSc Hons at Manchester. I was very lucky to get a working placement at Matalan Head Office in my third year on kids buying. I loved it and knew that was what I wanted to do. I was offered a job before I finished my degree which I couldn't refuse. After uni I went back to Matalan and progressed in my buying role within ladies fashion.
KR: What is it like running a shop as a mother-daughter team? Do you enjoy working together?
AW:
It's really good, we work well as a team especially when we go buying as we both like similar things but have different style so would wear items very differently. It works well, as Beth is late twenties and I am early fifties so we really try to make sure we have something for everyone which we believe we have achieved well and will continue to cater for a wide range of ages going forward. It's also really great coming to work with your best friend; it's not easy, we work very hard but make sure we have a laugh doing it as that's so important to us.
KR: How do you choose the designers and collections you stock?
BW:
Usually what we love and what we know will work well in our area for our customer. We always keep our customers in mind – who would buy it and how would they wear it? Are questions we constantly ask ourselves when buying. Fit, quality and sustainability are very important.
KR: Do you have any favourite designers in the shop right now?
BW:
Lolly's Laundry is my favourite at the moment, it's super cool and feminine. I just love it!
AW:
I am really looking forward to Munthe arriving in the boutique early January. The style is very chic and relaxed I think it will sit perfectly with our other lovely brands.
KR: Are you attending Scoop this February? Will you be looking for anything specific?
BW:
Yes, we are always keeping our eyes out for new brands. It's so important to us especially as we are so new. We need to be adapting to try new brands. Scoop always has something up and coming and we love to see emerging brands showcase their collections.
Join Beth, Andrea and more leading retailers from the UK and around the world at Scoop's AW20 edition. Exhibit, for one season only, at the iconic Old Billingsgate in the heart of the City on 9th-11th February 2020.