---
Jan 11 | 2023
Karen Radley chats to Cencetak founders Nicoletta Dileno + Tiziano Picogna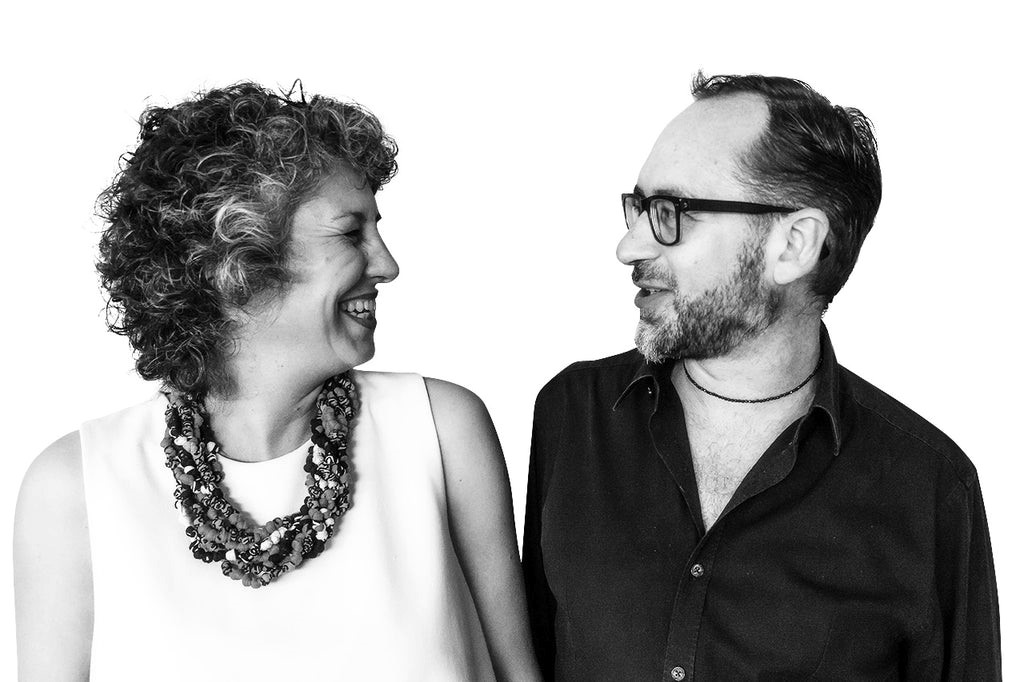 What does CenCeTak mean?
Cen Ce Tak means (without heals) "Flats" ☺ in our local "Ladin" language in Friuli. Friuli is a region in north east Italy which is autonomous with its' own language. Nicoletta and I are very proud of our land and origins, therefore we try to use our creative work to share it outside our borders as much as possible.

Tell me about your fashion career Nicoletta?
My back ground doesn't start in the fashion world but in communication. My father was a photographer and maybe my love for communication comes from him. For more than 30 years I've been in the world of communication, working for directional agencies including within the fashion industry. Now, together with Tiziano I am involved in the sales and production of Cencetak. The combination of our two skills seem to work and even after over 30 years we manage to have fun working together, which I think is an achievement!

Tiziano you also come from a fashion background? Can you share with us please?
I've grown up in the fashion industry. My mother was pattern maker, when we were living in South Africa. She opened a garments factory once we returned to Italy in 1982. I love the process and techniques behind the fashion world I studied weaving and textile printing at high school, then fashion designing and product development in Milan. My career started at "La Scala theatre" in Milan, as pattern maker in a factory that produced the Gucci collections in Novara. Then I was the designer for Archetipo, a company specializing in bride groom. My move to Asia in 1996 was to run an Italian factory specializing in children's clothing. Asia was an amazing experience living in Sri Lanka, India and Hong Kong. After a few years I wanted a change and set up a design academy in Sri Lanka for a Sri Lankan lady, as co-founder & Principal, with a focus on teaching. It was important to keep my connection to the fashion world in Italy. I managed to balance working between Sri Lanka & Italy for almost 20 years. In Italy I set up my tailoring unit where I tailor high fashion bespoke garments. My real passion! In that period I re-met Nicoletta with whom I went to art school together and gave new birth to our friendship. In 2013 due to a lucky combination we decided to start the adventure of Cencetak together. Currently I teach textile technology in a local high school, do dresses made to measure and run Cencetak together with Nicoletta.

When did you both start CeCeTak?
Cencetak started 10 years ago almost by chance more as a challenge. At the time, I was creating the uniforms for the prestigious AMAN Hotel in Venice. I needed a hand and asked Nicoletta. Amongst the items to create there were some curtesy slippers made with our local Friulano technique. These slippers are called Friulane and have a history that goes back over 400 years. These slippers are all hand sewn. Nicoletta and I saw great potential in these house slippers considered a local poor handcraft. They were made in the same way of 400 years ago.
On a trip to Venice, we chatted about that all the craftmanship and work that goes into making these shoes must be researched and appreciated. In the past they were the party shoes of the Friulano people, made out of the best cut-outs and fabrics of the most precious garments of the house hold. The women of the family would sew the shoes for the household.
We decided to preserve the spirit of this product using cut-outs of the garments I was sewing, asking ladies in their houses to sew for us setting up a small cottage industry, but making them more modern and comfortable giving them a more modern look. Our philosophy is to use these shoes as outdoor wear just like in the '80 the "espadrilas" were worn.
We didn't expect such a success, but as our production is small, we decided to make a high fashion product. We maintain a high quality and durability of the product using some of the most precious textiles and accessories on the market.
As each item is hand cut and sewn, each shoe is unique and not repeatable. That is one of our plus points that make Cencetak so special for each one of our clients.

Can you explain the collection and its history?
Our collections are normally inspired by what the fashion trends suggest. But for Scoop we decided to create a capsule collection on the lines of the theme "Tarot". The name of the collection is "MAGICATEXENDI" that means "The magic of weaving". As weaving has always been seen as an alchemy that transforms simple treads in magnificent textiles. The most representative textiles that we could use are original fabrics from the XVIII century from the (Tessiture Luigi Bevilacqua of Venice). A textile mill the uses XVIII century looms and weave fabrics in the same way they were woven at the time. The colours and shades of the fabrics underline the magical theme of Scoop 2023. I think though that the real magic lies in the love with which each part of these shoes are crafted.

If a woman or man was to own just one item from your collection - which one would you suggest and why?
This is a very difficult question to answer. The choice is normally taken accordingly to the life style of each person. Our client sees the shoes and is attracted by a pair instantly, it's like as if the shoe chooses the client rather than the other way round. A bit like the Olivanders shop in Harry Potter ☺. But the truth is that our variety is very big so it can satisfy all needs and occasions, for those few that don't find anything we make them to measure.

Is there a fashion designer or icon who has inspired you both?
For us two icons in the shoe industry are Christian Louboutin and Manolo Blahnik. We find the shapes, quality and elegance of their creations of the highest levels. Our shoes are flats, most of theirs are with heals but we always respect the quality and harmony in the shape and the raw material.

What will you be showing at Scoop?
We will be showing our capsule collection "MAGICATEXENDI" made of inlaid velvets, damasks, lampas and brocades. All hand woven in silk, cotton and linen treads. We will also have more simple plain velvets range enriched by precious broaches of our design made always in San Daniele del Friuli.