---
Jan 26 | 2023
KAREN RADLEY CHATS TO THE LOVELY ROSEMARY ERIBÉ FOUNDER OF ERIBÉ KNITWEAR, SCOTLAND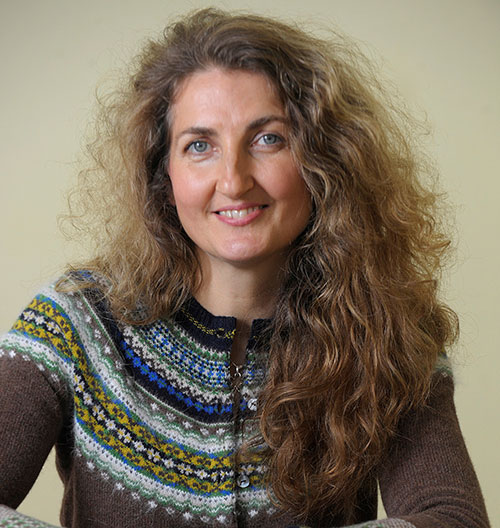 What was your first job?
Aged 12/13 doing paper rounds. The worst part was having to climb to the top floor of Victorian flats!
How did you start your career in fashion?
It all started with what I discovered I didn't want to do. Aged 18 I escaped Scotland for Hamburg in North Germany to do a 2-year internship in an Organic Retail company (they had 3 shops: 2 were selling organic food, 1 x selling natural clothing, specialised toys and books)
I discovered that working in a shop from morn till dusk meant you hardly see daylight in the Winter and are cooped up in one place. After 14 months they opened an exclusive natural textile shop that I managed and run. There I discovered my passion for natural textiles and particularly knitwear. I wanted to have the freedom to create and to travel. By working under challenging conditions, I knew I was going to set up my own business.
What is your coffee order?
Flat White or Cappuccino
When you design the collection - how are you influenced? Paintings / Graphics / Colours of nature / People on the street, on the train etc… and speaking with our customers and wearers.
Is there a signature look for ERIBÉ?
We have re-invented ourselves with our knitwear a few times: Now we are all about the Joy of Colour with our knitted Scottish Fairisles and the Sustainable Woollen Fleece knitwear.
Who would you say is your ERIBÉ customer?
Colour doesn't have an age. Discernible women, men and children who look for that favourite garment / accessory to wear for years. The age range is rapidly widening as more people look for knitwear that lasts and brings joy. (children – 100 year old)
Do you have a mission statement for the brand?
"We design for You." By working harmoniously together from sheep to wearer, our customer has a unique artisan experience that brings Joy.
If a woman or man was to own just one item from your collection - which one would you suggest and why? Woman: Alpine cardigan – find the right colour and you look young and healthy Men: Our new Ecology jacket with 4 pockets to live in for years to come.
Is there a fashion designer or icon who has inspired you?
Kaffe Fassett in the 80's and 90's– an amazing and talented artist working with knitwear amongst other mediums… his use of colour was and is inspirational.
Where is your favourite place to shop?
In New York I used to love visiting the two beautiful flagship stores of Anthropology – they worked together with artists to create interesting spaces using art and craft.
In Japan they have specialist stores selling one product i.e only shirts / blouses or Jeans or Papers etc… its fascinating
In UK, I enjoy Burford Garden Centre who likewise work together with artists.
What keeps you up at night|?
Menopause! What a shock, I was totally unprepared and surprised.
Do you have any words of positivity to share with our Scoop readers? The power of communication is a great way to build a business and more fun. By working together from the start of the supply chain down to the end wearer, businesses can grow together and adapt without risk. It is most rewarding.