---
Oct 18 | 2023
Karen Radley meets Shiri Rosenzweig CEO/Creative Director of Carré Jewellery in Copenhagen - for our latest "My Neighbourhood " Interviews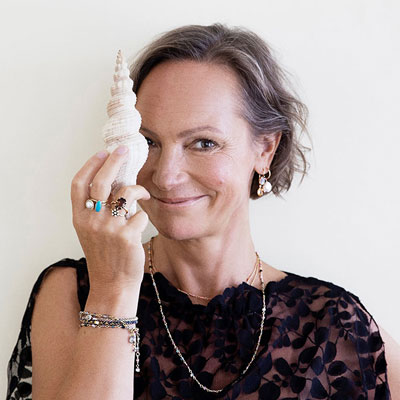 Tell me about the Carré Jewellery collection:
Our collections always comprise an array of gemset jewels. We only use genuine gemstones! The inspiration stems from different sources each season – within old Hollywood glamour and byzantine museum jewel details. Each gem is chosen for its particular colour, shape and cut to get the most beautiful collection. This season I have chosen green Malachite, green and black Agate, contrasted by facet cut Amethyst. A vivid and strong collection suitable for the Winter season.
Favourite neighbourhood in Copenhagen:
My favourite neighborhood is definately Østerbro – with its cute shops and lots of cool restaurants.
Favourite place for brunch:
La Banchina at Reffen. Bring your swimsuit and take a dip in the harbour after a nice stay at their sauna. Any time of the year. Best big city treat!
Best coffee in Copenhagen:
Café Europa. I take the tripple shot! Probably the most expensive coffee in Copenhagen but it IS good. And right next to our office.
Favourite gallery or museum:
Louisiana, a train ride north of Copenhagen. The Museum is probably the world's most beautiful museum situated at the sea in a large sculpture park with small hills and trees.
Tell us a secret:
Go visit Den Kongelige Afstøbningssamling at the harbour, Vestindisk Pakhus Toldbodgade 40. This is an amazing place with plaster sculptures that is not often mentioned in the regular Copenhagen guides.
Favourite place to shop:
Copenhagen is easy to walk around. The small streets behind the pedestrian areas have some cool shops – or visit Nørrebro for thrift shops with funky stuff – around Ravnsborggade.
Favourite place to find inspiration:
Actually Kødbyen – Meat Market – with lots of galleries and shops out of the ordinary. Gaza Grill has great middle Eastern food. Outside the market there are plenty of funky Asian and middle Eastern shops which is a great source of inspiration.
Best Copenhagen destination for a date:
Hotel Sanders is a hidden gem. They have a cute rooftop bar, nice snacks and an intimate atmosphere.
Favourite park:
Kongens have (Kings Garden) – go see the little Hercules Pavillion! And of course Rosenborg Castle – stroll around the garden with beautiful greens and an amazing kiddies playground with playful sculptures.