---
Jan 09 | 2023
SCOOP ANNOUNCES SENSATIONAL LINE-UP OF LINGERIE AND SWIM DESIGNERS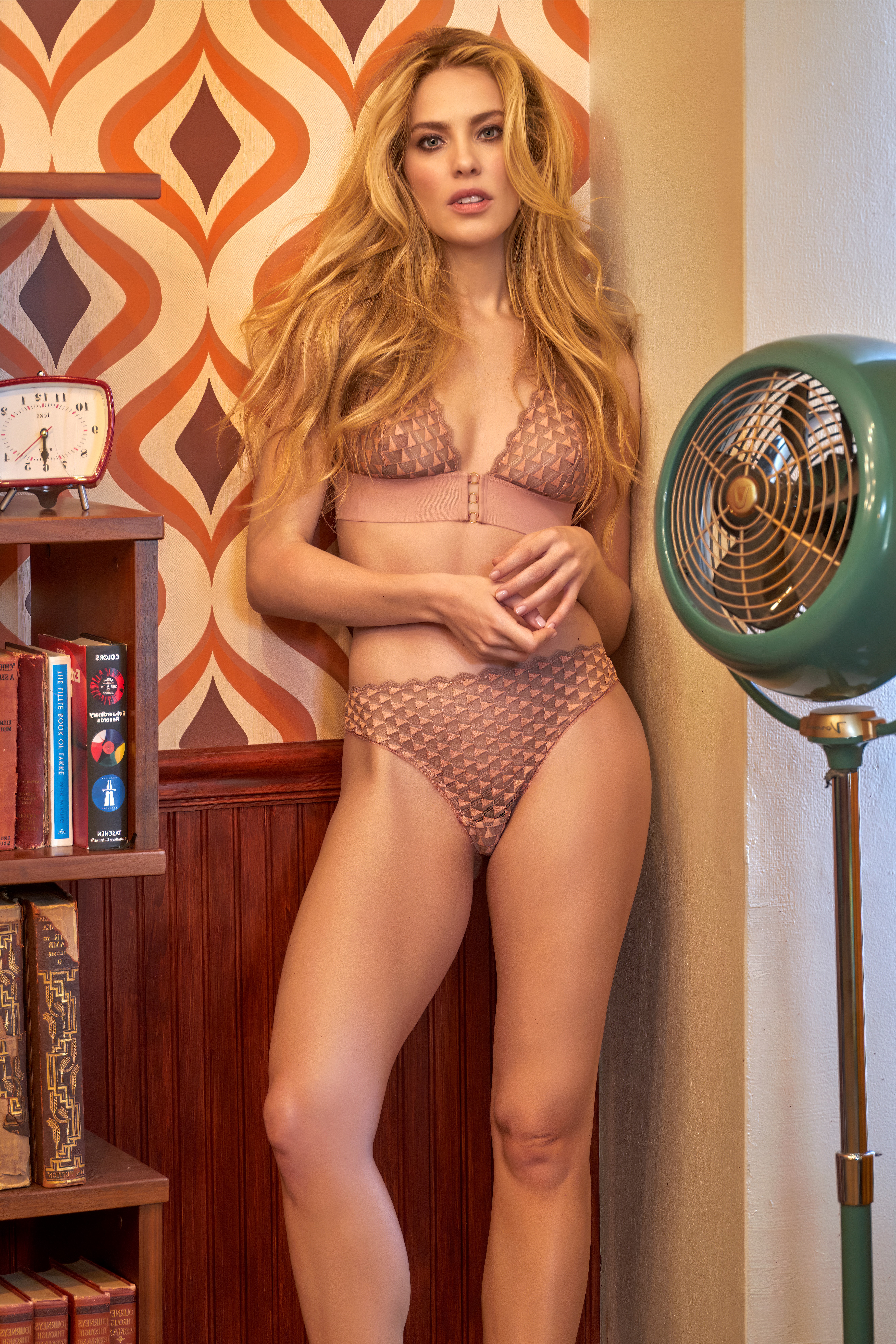 The UK's leading contemporary fashion show Scoop has revealed a sensational line-up of lingerie and swimwear designers. Showcasing the very best premium ready-to-wear, accessory and lifestyle collections Scoop returns to the Saatchi Gallery in Chelsea, taking place from 29th- 31st January 2023. Scoop is renowned internationally for its exclusive presentation and expertly curated edit of designers which this season will include lingerie, swimwear, nightwear, and loungewear collections from Huit, Eberjey, Endless Love Affair, Hanro, Commando, HartiSWIM, Jessica Russell Flint, Wolford, Polo Ralph Lauren, Schiesser, Amor 'e Coro, Promise, and Calida.
Polo Ralph Lauren's new AW23 intimates and lifestyle wear range exudes sustainable fabrics and innovation. The newly launched collection incorporates lifestyle wear, nightwear, and intimates and is the first range of its kind for PRL. Responsibly sourced, luxurious fabrics and beautiful details incorporating organic cotton, recycled cotton, and recycled polyester.
Modern, tradition and creativity are at the heart of French designed lingerie and swimwear brand Huit. Fabrics, prints and colours are trend lead and inspired by ready-to-wear whilst designs are motivated by the French ideologies of seduction and liberation of women. Colours are playful with each set featuring exquisite details including lace trims, beautiful embroidery or delicate prints. The swimwear collection introduces timeless shapes and feminine cuts to showcase the female form.
Glamour with a conscience, HartiSWIM is a contemporary and dynamic new generation eco-luxe label designing swimwear that is made to be loved forever. Sustainable statement print collection of swimwear are made from recycled plastic bottles from our oceans. The swimwear aesthetic is inspired by the pop art graphics from the artist known as Harti. Using this new sustainable fibre for swimwear allows its customers to play a role in solving the ever-growing problem of ocean plastic. HartiSWIM is dedicated to creating an innovative brand that uses its collections and art to bring awareness to climate-change. One swimsuit uses over 13 plastic bottles (certified bottle count from Repreve).
Eberjey is a sensual yet comfortable collection of lingerie and sleepwear designed to promote confidence. The beautiful and functional range creates the perfect balance between tailored and perfectly undone. Effortless, free flowing, supremely soft, and flattering from every angle the now iconic sleepwear is complimented by a premium lingerie collection which includes lace, soft fabrics with subtle seems and bow details.
New to Scoop, Endless Love Affair are a vintage inspired and eco-conscious lingerie, nightwear and swimwear brand. Inspired by travels around the world the collections are timeless, stylish and elegant. Not led by trends but embracing slow fashion with ethically certified factories and recycled and sustainable fabrics. Feminine colours, flirty styles and retro prints are the hallmarks of this premium and sustainable collection.
Hanro is a sustainable fashion forward lingerie and loungewear collection. Blurring the boundaries between day and night and inner and outerwear the range is practical yet stylish with classic elegance. Hanro is puristic in design with attention to detail in workmanship made from delicate and pure natural fibres with the perfect fits and classic cuts. The latest collection features warm colours such as red and powder tones as well as beige and brown nuances. Designed to represent an attitude to life that is about mindfulness and balance. Commando uses innovative design and technical fabrics to create versatile pieces that lay flat against your skin for an 'invisible effect'. It's the go-to brand for seasonless staples that create the perfect silhouette and includes sleek ballet bodysuits, leggings, bras and raw-cut underwear. The cutting-edge intimates and luxury ready-to-wear styles are thoughtfully sourced, long-lasting and fitted to perfection.
Jessica Russell Flint is inspired by life's eccentricities and creates vibrant collections full of colour and texture with entirely unique hand illustrated prints. Mixing British Heritage inspired themes with contemporary colours and boldness, the ethos behind the exciting brand is to make the most of life, to embrace colour, and to think outside the box. Everything in the luxury collection which spans sleepwear, ready-to-wear, accessories and home is limited edition with prints and designs being constantly updated and changed.
Italian couture lingerie label, Amor 'e coro, was born out of desire to create beauty with collections perfectly combining the excellence of Italian and French craftsmanship. From the fabrics to the accessories, all the materials we use are Made in Italy or Made in France. The exquisite French Leavers lace is the protagonist of the brand aesthetic, working with Dentelle de Calais-Caudry laces which are woven on leavers looms in the north of France. The designer's creative process starts from their love for these rare fabrics. Como silk comes from the homonymous historical textile district in Italy, and light as air and ethereal Italian Tulle creates impeccable style.
Under the creative direction of Roser Samon, Promise, a worldwide lingerie fashion brand from Barcelona, continuously works to beautify women's lingerie offering fashion and premium quality collections at affordable prices: a wide range of lingerie, sleepwear, loungewear and swimwear, designed for any type of woman, with fittings and patterns that always look for comfort without sacrificing fashion and trends. Feel liberated in their new harmonious chic lingerie collection designed for empowerment and confidence.
Wolford's legacy has always been in providing luxury, modern collections that will last in your wardrobe forever. Using technological fibres including recycled polyester, the lingerie and shapewear collection are the perfect garments to keep comfortable day through to night. Schiesser, a 150-year-old heritage brand, offers contemporary fabrics with heritage detailing. Combining flat knit cuffs with Supima cotton jerseys and 4 button placket henley, Schiesser Revival offers a vintage selection of pieces combined with 21st century fabrics and shapes. The collection offers men and women comfortable, lifestyle options as well as premium underwear and undergarments.
Karen Radley, Founder and MD of Scoop says, "The next edition of Scoop this January has a beautiful line up of lingerie, swimwear, and loungewear to compliment the ready-to-wear and accessories designers. There will be truly inspirational talent on showcase and innovative designers who are looking at new technologies and processes to produce beautiful fashion. It is going to very exciting for the buyers this season."
Visit www.scoop-international.com for more information.
For further press information or images contact: Philippa Suitters and Emma Hussain at Good Results: [email protected] / [email protected]
About Scoop:
Scoop is renowned internationally for its exclusive presentation and expertly curated edit of fashion designers and labels from the UK and the rest of the world, many of whom select the show as their launch pad.
The contemporary designer womenswear trade show launched in 2011. Karen Radley, Founder and Managing Director of Scoop, has had an extensive and multi-faceted career in the fashion industry spanning the manufacturing, retail and design sectors, and personally curates the show to ensure exclusivity remains at its heart. Recognised by designers, fashion buyers and industry experts as the UK's leading fashion trade show, Scoop is an exclusive edit of sought-after fashion collections and emerging international designers, many of whom select Scoop as their only trade platform.
With an impressive line-up of the finest premium collections, Scoop is famed for its unique aesthetic. Carefully curating over 250 designer labels around outstanding works of contemporary art, Scoop offers visitors a unique and bespoke buying environment to discover a host of the new season collections.
Welcoming premium independents and department stores from across the globe, visitors to Scoop have included Harrods, Fortnum & Mason, Bergdorf Goodman, Galeries Lafayette, Fenwick, Brown Thomas, John Lewis, Voisins, Harvey Nichols, La Rinascente, Selfridges, Neiman Marcus, Beymen, Penelope, Printemps and Le Bon Marche, as well as independent boutiques such as Bernard's, Aria, Found, Iris, Jules B, and Courtyard.
Scoop is a Hyve Group plc event.