---
Feb 06 | 2023
SCOOP CELEBRATES A TRIUMPHANT AW23 SEASON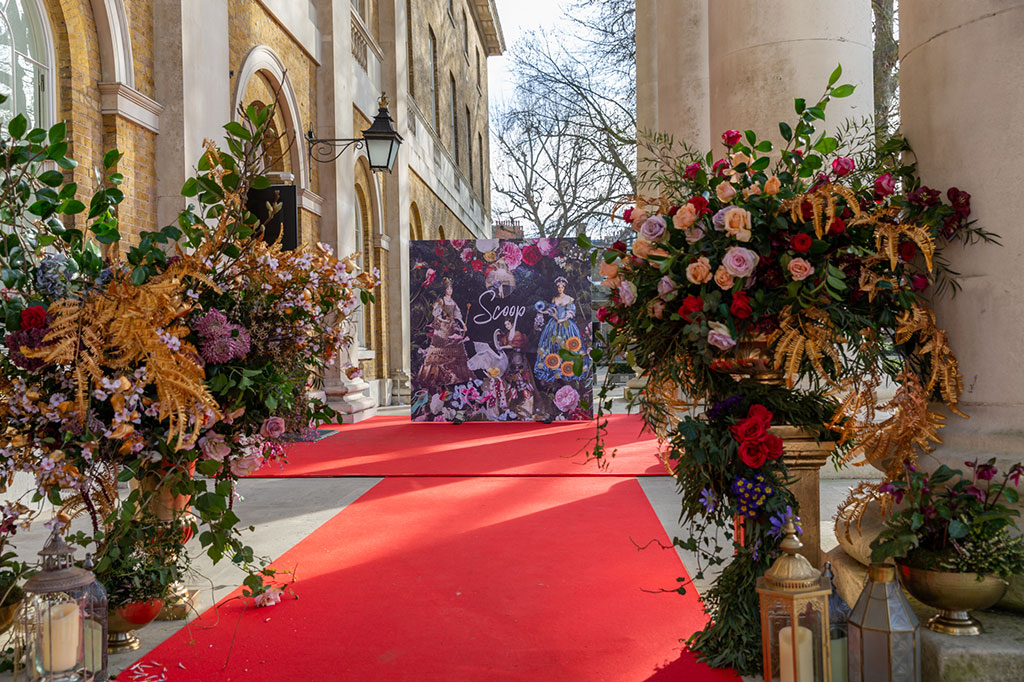 The Autumn/Winter 23 edition of contemporary and premium fashion show Scoop closed its doors today celebrating a highly successful 22nd season with its highest ever number of buyers in attendance for an Autumn show.
The space was bustling with buyers from across the country including teams from Matches, Browns, Harrods, Galeries Lafayette, Liberty, Fenwick, John Lewis, Harvey Nichols, Le Bon Marche, and Anthropologie Europe as well as a host of independent boutiques from across the UK including Stanwells, Aria, Chattertons, Cavells, Morley Stores, Pamela Shiffer, Elizabeth Rose, Young Ideas, Cordelia James, Kate Bird, Gemini, Javelin, Jules B, Doyles, McElhinneys and many more.
Amber Truman and Mananchaya Wattanachayakul from Browns commented, "The Saatchi Gallery is a beautiful space and there is a really good mix of contemporary, casual and resort wear designers. It's also good to see so many international designers, not just the UK. We have seen wonderful collections curated beautifully across Scoop."
Pamela Shiffer from Pamela Shiffer, London said, "What a beautiful show! Personally I think it's been my favourite to date because we picked up three new brands and there are a lot more we are thinking about. This is exactly the show we need in the UK, a mix of price points and beautifully curated. Well done to the team!"
Ailsa Feroze from Fabric Boutique, London said, "It's such a pleasure to visit Scoop. Plenty of space to get around, beautiful flowers everywhere and wonderful brands to explore!"
Located at the Saatchi Gallery, Chelsea from 29th – 31st January, the show offered an exclusive edit of over 250 contemporary womenswear, menswear, accessory and lifestyle collections expertly curated by the show's Creative Director and Founder, Karen Radley.
Among the impressive line-up of designers at Scoop were an innovative collection of gender-neutral designers presenting a style of clothing which is growing in popularity with retailers. Designers included Dzenda, Dedicated and Knowledge Cotton. Dzenda's first collection reflects a modern and chic identity that elevates the human body with an essence of luxury and removes borders and boundaries in gender title. Ali Kaptan, Creative Director from Dzenda commented, "Gender neutral is a small but growing sector and it has been fantastic to be showcased alongside other brands in this market. We chose Scoop to launch our collection and the show has been a great success for us!"
Also popular with retailers were brands that appealed to a younger demographic. Romantic, fanciful and whimsical the Amy Jane London collection of stunning dresses looked beautiful against the gallery back drop. Amy Jane from Amy Jane London said, "We were drawn to showing at Scoop because of its boutique style and high-end reputation. It has certainly lived up to expectations, the gallery and designers showcased here are beautiful. It has been a very successful few days for us with a great response from buyers and the other brands we've met – It is by far the best show we have been to!"
Sally Ann George at Aspiga, "It is fantastic to be back at The Saatchi Gallery, it is a wonderful venue for the show. The event is incredibly well organised and we have been very well looked after. A definite success!"
Jenny Adagio from Onjenu,"We are returning to Scoop this season and the show has been very busy for us. We have received great feedback from existing and new customers and have achieved fantastic orders. Everyone you speak to loves Scoop!"
The upbeat response was mirrored by designers showcasing at Scoop for the first time, Marthina Weber from ByTimo commented, "The vibe at Scoop is wonderful. It has been consistently busy with attendance from great retailers. We've been very successful here and made great orders from a mix of existing and new customers."
Amy Pass from It's 9pm, "We chose Scoop to launch our collection, and it has been amazing. The space is beautiful, and we have had an incredible response from buyers with some brilliant orders!"
Scoop's exclusive showcase also included stunning collections from, HIGH in collaboration with The Royal Academy of the Arts, Tandem, Hanro, Signal, Les Racines du Ciel, Meme Road, NotShy, BRGN, Ivy Copenhagen, Eberjey, Chelsey Greene, Fringe, Beyond by Vera, Peachaus, Eribe, Gaston Luga, Ines de la Fressange, Transit, as well as menswear from North Sails, Jack&Me, Mos Mosh, and many more.
Commenting on the success, Karen Radley said: "We are closing doors on what has been an immensely successful 22nd season! One of our focuses has been showcasing designers who have chosen Scoop to launch such as ByTimo, Fringe, Cencetak, Amelia Scott, It's 9pm, Dzenda and many more and the reaction from buyers to these collection has been incredible. There has been wonderful positivity from retailers on the diverse edit of designers across womenswear, accessories, lingerie and mens and designers are upbeat and optimistic about the season ahead."
Visit www.scoop-international.com for more information.
For further press information or images contact: Philippa Suitters and Emma Hussain at Good Results: [email protected] / [email protected]
About Scoop:
Scoop is renowned internationally for its exclusive presentation and expertly curated edit of fashion designers and labels from the UK and the rest of the world, many of whom select the show as their launch pad.
The contemporary designer womenswear trade show launched in 2011. Karen Radley, Founder and Managing Director of Scoop, has had an extensive and multi-faceted career in the fashion industry spanning the manufacturing, retail and design sectors, and personally curates the show to ensure exclusivity remains at its heart.
Recognised by designers, fashion buyers and industry experts as the UK's leading fashion trade show, Scoop is an exclusive edit of sought-after fashion collections and emerging international designers, many of whom select Scoop as their only trade platform.
With an impressive line-up of the finest premium collections, Scoop is famed for its unique aesthetic. Carefully curating over 250 designer labels around outstanding works of contemporary art, Scoop offers visitors a unique and bespoke buying environment to discover a host of the new season collections.
Welcoming premium independents and department stores from across the globe, visitors to Scoop have included Harrods, Fortnum & Mason, Bergdorf Goodman, Galeries Lafayette, Fenwick, Brown Thomas, John Lewis, Voisins, Harvey Nichols, La Rinascente, Selfridges, Neiman Marcus, Beymen, Penelope, Printemps and Le Bon Marche, as well as independent boutiques such as Bernard's, Aria, Found, Iris, Jules B, and Courtyard.
Scoop is a Hyve Group plc event.