---
Jul 14 | 2022
Lyons has a rich textile history dating back over 2000 years.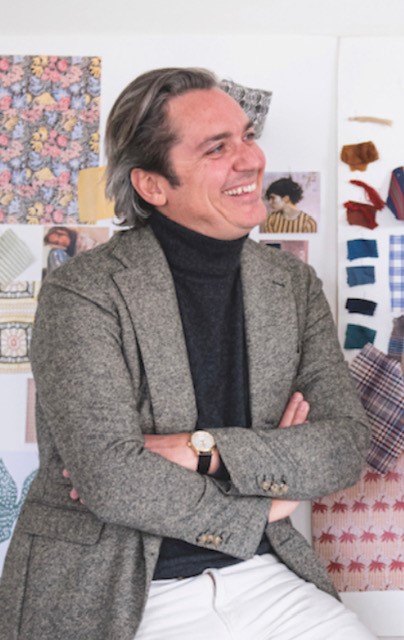 Julien– tell me about your beautiful city of Lyons?
Lyons has a rich textile history dating back over 2000 years. It became the epicentre of Europe's silk trade with over 14,000 looms operating in the middle of the 17th century.
Lyons has the most important and best preserved Medieval and Renaissance architecture in France, along with the reputation of being France's gastronomic capital, well worth a visit!
Can you tell us about your family fashion and fabric background?
My family have been producing textiles for generations, supplying couture and design houses worldwide.
When did you launch Tinsels? Why the name?
Tinsels was launched in 2012, it seemed a natural progression to create our own ready to wear collection, using the textiles we produce.
The word Tinsel comes from 'estincele' an old French word that means sparkle, who doesn't love sparkles!
So you went on to launch Sacrécoeur? Is there a difference between Tinsels and Sacrécoeur?
Yes, buyers always want to introduce new products but don't always need a complete ready to wear collection. I wanted to produce a one product collection that could easily slot into stores and elevate their other one product collections such as premium denim and cashmere brands, Sacrecour shirts do just this. Our Tinsels collection covers more needs, it is a completely co-ordinated offer of knits, pants, dresses, skirts, denims…
Is there a signature look for Tinsels and Sacrécoeur?
Both collections consist of pared-down, easy to wear, sophisticated pieces. Our garments offer longevity and quality, this is very important to us.
Who would you say is your Tinsels and Sacrecoéur customer?
A woman who appreciates quality, design, beautiful fabrics and good fabrication. She already owns beautiful clothes and is looking for pieces to enhance her wardrobe.
If a woman was to own just one item from either or both of your collections - which one(s) would you suggest and why?
Tinsels summer dresses can be worn early in the season layered with a jumper, tee shirt or jacket, then worn on its own during the hot summer months.
Sacrecoeur's cotton voile shirts are very versatile, whether layered with a fine polo and worn with jeans or worn open over a dress, they quickly become a wardrobe staple.
Thank you Julien looking forward to seeing both collections at Scoop!