---
Nov 09 | 2023
Alexia Boutry from Yerse catches up with Karen Radley for our latest "My Neighbourhood " Interviews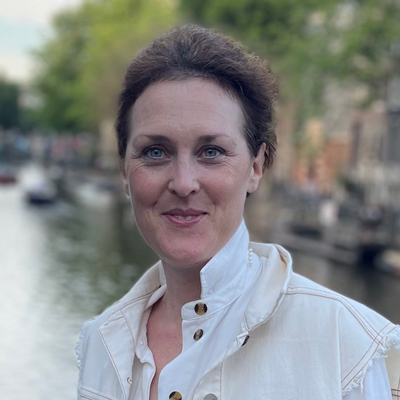 Tell me about Yerse: Yerse was founded in Barcelona over 60 years ago, offering a fashion focused casual, chic and versatile look; and sold internationally in over 25 countries.

Favourite neighbourhood in Barcelona: I would choose where I live in Sarria – Vallvidrera. This residential area is on the mountain side of the city, not far from the centre of Barcelona, where I go to enjoy the lively atmosphere, great lunch places and best of all the shopping!

Favourite place for brunch: I am loving a new place called La Papa, cocooned in elegant neutral tones with delicious coffee and cooked eggs.

Best coffee in Barcelona: As a book lover, I would highly recommend places like El bar Decamerón from librería La Central del Raval or Llibreria Finestres's Café – do not forget to ask for your "café con leche".

Favourite gallery or museum: Art is one of my passions and hard for me to make a decision here about the museums…
Barcelona is already an iconic architectural museum, with so many places designed by Gaudi - all easy to discover on nice walks. Not to be missed is the human size bronze statue of Gaudi as the guardian of the Portal Miralles entrance!
Then, you have to see the Fundacío Tapies dedicated to the major Catalan artist Anton Taoies and of course the Fundacio Miró. In addition, I particularly like the exhibitions at the Caixa Forum as they offer so many interesting exhibitions all the year round.
Tell us a secret: I feel at home in Barcelona, when an old lady asked for my hand to help her cross the street 15 years ago. I thought immediately this is the place where I want my (future) kids to grow up.

I will always be a Paris lover (my birthplace), but I chose Barcelona for its' nice quality of life combining the sea and mountain… my mediterranean dream.

Favourite place to shop: I still highly regret the closure of the iconic VINCÓN lifestyle shop we had for decades in Barcelona. But, I would recommend JOFRÉ for contemporary fashion, and 248 a nice multi brand shop with local designers and all the fashion shops in Gracia's streets.

Favourite place to find inspiration: Sea view for sure! For those who are inspired by panoramic views I recommend the "Carretera de les Aigues".

Best Barcelona destination for a date: Enjoying a cocktail at any 5 stars hotel with an outside terrace! I suggest the rooftops at the Casa Fuster or Majestic Palace.

Favourite Park: Far from the famous parks of Barcelona, I love our English Garden of Barcelona, with more than 150 000 roses and the Cervantes Park.

Favourite food market: For sure Barcelona is well known for this unique Boqueria's Market in the heart of the city. Just right of the entrance pop in to one of the most famous bars "El Pinotxo".

Your sanctuary in your neighbourhood: The Forest. I live in the heart of Collserola park, five minutes from the forest, Here I enjoy long walks to other magic places like Tibidabo.

What inspires you: Art, chamber music, the sound of the waves, magical words of my little ones, the peaceful view of a mountain park, the ironwork found in Gaudi's architecture... So many graceful and atypical details will constantly inspire me. I will never stop looking at my surroundings and travelling to have the chance to be surprised by new details.

This season I'm loving: There is a lot to enjoy in Barcelona. Port Vell, the maritime area just opened a new route to Panoramic Nova Bocana.

On the other hand, as it is soon Christmas, I love the Spanish tradition of the Three Kings and the preparation for the "Cavalcada de Reyes". These are Catalonian magical moments to look forward to over the next few months!