---
Apr 05 | 2023
Karen Radley meets Marina Minard and Davy Morel from MAEVY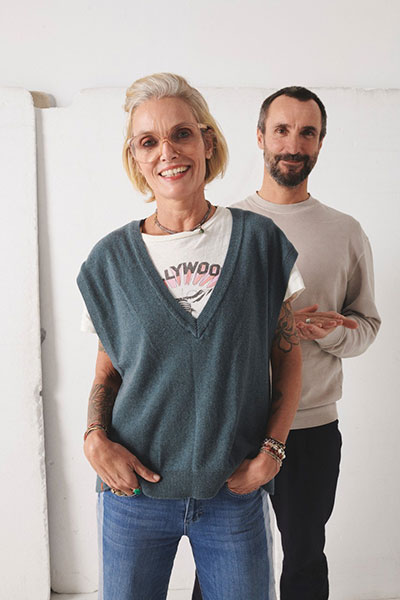 Where does the name MAEVY come from?
We are a couple in life; when we created the brand together we searched for a name that best resembles us. In short, we decided to mix both our names Marina and Davy and that gave us MAEVY - quite simply!
Tell me what you love about your home town of Marseille ?
We love the strong energy that emanates from the city!
Marseille is a bustling city which has always attracted people from all walks of life. This energy full of optimism is very stimulating and inspiring - it corresponds well with our values. Also, we are in love with the colours of the city and the Mediterranean! Here they are everywhere! The sun, the sky, the sea, the houses... MAEVY likes the colours which are so important when we are creating our collections. in our creations.
Marina can you talk about your fashion career?
I have a very interesting career as I have had many professional lives - and the creation of MAEVY 10 years ago was just another new stage. Business Manager, Director of Human Resources, yoga teacher... my various experiences are a strength and I think that my background allows me to have a fresh eye and allowing me freedom when I create my collections.
However, I have always been passionate about fashion and style of course!
Designing collections and dressing women are an exciting challenge for me and I take great pleasure in my work.
When did you first start Maevy?
About ten years ago we began with knitted garments because we couldn't find what interested us on the market. Since then, we have developed strong expertise in working with yarns and knitted fabrics.
Step by step, first one model then two, then five…. Today we offer two collections per year with more than 70 models! Knitwear of course, but not only because our collections now offer a complete wardrobe.
Do you have a mission statement for the brand?
Our signature is "Mouvement Libre" which can be translated as "Free movement" It is a broad concept that incorporates notions of freedom, independence, development and fulfillment for all. MAEVY has also been committed since its creation to respecting the environment. Our local production is 100% European in certified factories, we use a lot of natural materials, we are very attentive to the quality of our production to deliver quality and durable parts….We are also working on a very beautiful Vegan theme that takes on the look of leather but respects animal well-being.
Is there a fashion designer or icon - maybe a writer who has inspired you both?
Maybe Coco Chanel for her personality, her character, strong and independent woman, innovative. Sonia Rykiel for her looks
When you design the collection - how are you influenced?
My influence is in the street, women, landscapes, the colors of a sunset for example…travel inspires me a lot
Would you say, there a signature look for Maevy?
That is a difficult question! There are so many looks to create with all our colours and styles!
Simply, I would say a stylish look with casual pants and a nice coloured knit. An outfit in which the wearer feels beautiful!!! An outfit for every woman, every personality, everything is possible with our pieces, bohemian, chic, rock, casual... For a look that is both chic and modern, full of good energy!
If a woman was to own just one item from your collection - which one would you suggest and why?
A pretty MAEVY knit, for spring or winter, because it is the DNA of our brand.
The woman will really get attached to this beautiful piece that she will be able to keep for a long time and wear in many different ways!
That's the MAEVY spirit!
What keeps you up at night?
Not much, we are quite zen. But maybe the well-being of our family and our friends
Do you have any words of positivity to share with our Scoop readers?
Be yourself, be positive because we only have one life!
Be in Mouvement Libre !